Performance & Specifications
FVX15 has two port openings. With one port open, the max extension is 12hz and the bass extension toggle switch should be set to either 1P-music or 1P-HT. The latter is recommended for HT playback. The bass extension toggle switch needs to match the number of ports used.
In the following is the frequency response when bass extension is set to 1P-HT with one port open.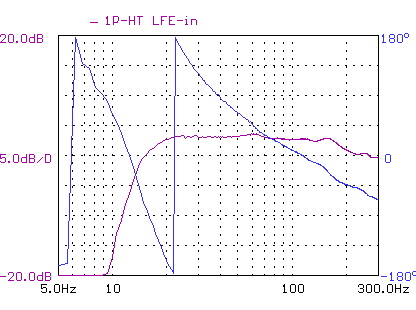 Fig 1.0 - FVX15 Frequency response chart with LFE input 1P-HT and one port open
To achieve lower group delay in one port operation (such as for music playback), users can set the bass extension switch to 1P-Music. It has a more gradual roll-off compared to that of 1P-HT. In the following is the requency response comparison between these two modes.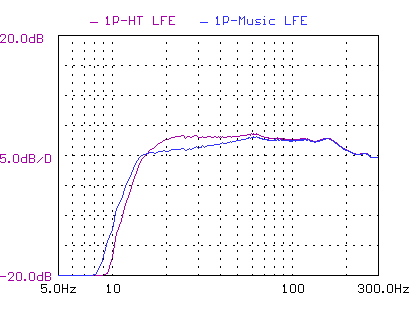 Fig 1.1 - FVX15 Frequency response comparison of 1P-music and 1P-HT with LFE input
For highest SPL HT playback output, users should select 2P mode with both ports opened. While the extension is only limited to 18hz, the power of the amplifier is better utilized for audible frequency band instead of less audible sub-sonic band. In the following is the requency response of 2P mode.
Fig 1.3 - FVX15 2p mode response with LFE input and two ports open
Integration
One important aspect of getting a correct integration is phase alignment. We have written a guide on how to achieve a phase aligned subwoofer. More

Driver
DS1502 15" high excursion with custom sensing coil
Driver materials
Black anodized aluminum with rubber surround
Cast aluminum basket
Aluminum flux de-modulation shorting rings
Amplifier
400RMS Hypex Ucd module based patented servo controlled
Dimensions
18-1/4"(W) x 24-1/2" (H )x 24-1/4"(D) - (26-1/2" D with grille and control knobs)
Shipping Weight
120 lbs (net weight 100lbs)
Frequency Response
12 - 200 Hz (-2 dB @ 17 Hz, -6db@12hz) with LFE input
12 - 90 Hz (-2 dB @ 17 Hz, -6db@12hz) with LINE IN input
Multi-tune
18hz (2 ports) and 12hz (1 port)
Crossover slope
Selectable 12 or 24 dB / octave
Crossover range (Low pass)
30 - 120 Hz (Line level frequency response tops out at 100hz)
Rumble Filter (High pass )
18 Hz 18 dB / octave for two port tuning
Phase adjustment
0 - 180 degrees continuously variable
Bass damping factor settings
Q=0.5 (1P-music) and Q=1.1 (1P-HT and 2P)and low (Q=1.1)
Finishes
Available in black matte vinyl and black oak vinyl
Warranty
5 years warranty on driver and 3 years on electronics
45 day satisfaction guarantee