Features
Product features include:
All our subwoofers feature our Direct Servo technology, which is our secret to achieving tight and accurate bass. The benefits are far more than simply achieving low distortion.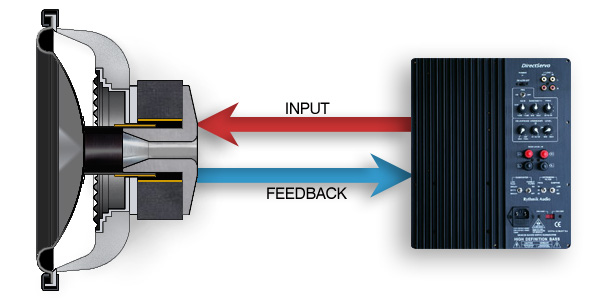 Learn more in our technology articles

Hypex Ucd module-based amplifier
Hypex Ucd modules are known among audiophiles to be one of the best sound class-D modules. While class-D can reduce the footprint of amplifiers, other companies have further incorporated switching power supplier to save cost and space. However, the disadvantages of switching power supplier are complexity of circuit leads to higher failure rate, higher compression at high transient current demand, and inflexibility of 120/240V switchable operation. The amplifier in FVX15 uses conventional toroidal transformer to address these issues. In addition, two large US-made (CDE) 12000uF/80V power filter capacitors are used to ensure stability of power supply even during the most demanding HT special effect.
15" black anodized aluminum high excursion driver
Driver features include:
Rigid silver anodized aluminum cone ensuring control at high SPL
Low moving mass to ensure an exceptional transient response
High flux density in the gap to ensure low distortion
Flux de-modulation shorting rings to lower inductance and improve linearity
Extended upper bandwidth response allowing a higher crossover point than most
While designed primarily for their sound quality, these custom designed drivers are also stylish in appearance with a anodized aluminum cone and rubber surround. Unfortunately, it's not possible to judge the accuracy of a driver by observing its appearance. There are other drivers on the market which in fact look quite similar, and it's tempting to think that they are comparable. Many of them are inferior in performance due to a heavy moving mass, the absence of shorting rings, wider gaps around the voice coil and high inductance which limits the useable high frequency cut off point. Many aren't suitable for a crossover point higher than 50 Hz. This is very limiting when one considers the large number of home theatre speakers which perform better when relieved of bass duties.
Read more

Our enclosures are very solid and well braced to minimize any cabinet resonances or coloration. The baffle into which the driver is mounted is double thickness.
We also provide a range of finishes. Our range of attractive and excellent value vinyl finishes including:
| | |
| --- | --- |
| | The bass extension control in FVX15 enables the user to customize the frequency response of the low end. It combines multi-tune specific frequency contouring and damping control in one switch. The damping control determines the slope of roll-off and the amount of time domain ringing. High damping provides the least amount of time domain ringing and the most gradual roll-off curve. Low damping provides the steepest roll-off at the low end at the expense of added time domain ringing. There are two positions for 1 port operation which extends to 12hz. 1P-music uses high damping while 1P-HT uses low damping. High SPL playback should use 2 port setting. The damping in this position is low. |
To suit different setups, we provide a 12 db and 24 db/octave crossover. If you are still using stereo receiver or conventional pre/power amp setup, then we recommend the 24 db switch setting. To understand more about how to correctly integrate your subwoofer, read our phase alignment article.
120V-240 Switchable Voltage Selection
Correct voltage must be selected before use. Voltage switch is shown below.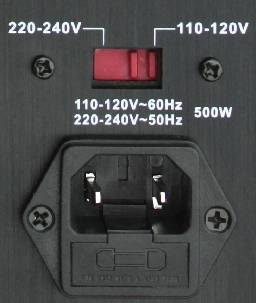 More information

Continue to Performance & Specs