This budget level sub delivers the same articulate and tuneful bass that our subs are known for and yet provides enough HT bass thanks to its sealed design. The combination of servo and a sealed enclosure is what makes this sub deliver on both quality and quantity in bass.
The quickguide for L12 with PEQ can be found here. This model has a 120-240v switchable power. Price includes shipping to 48 US continental states only.The next step-up model is F12-400 for those with more budget. Shipping to other regions or countries should inquire us for actual cost.
Please inquire upcharge per subwoofer to Canada with prepaid tax. L12 has RCA inputs only.
Documentation:
Quickguide
Integration guide
| | | | |
| --- | --- | --- | --- |
| | Description: shipping is included only for 48 states (RCA inputs only) | Price | |
| | L12 sealed sub black oak with 300WRMS Ucd Hypex amp 1-band PEQ | $629 | |
| | L12 sealed sub black matte with 300WRMS Ucd Hypex amp 1-band PEQ | $629 | |
| | L12 sealed sub gloss white paint with 300WRMS Ucd Hypex amp 1-band PEQ and white grille | $709 | |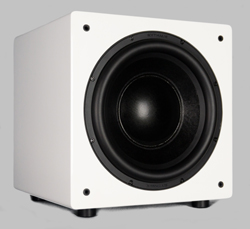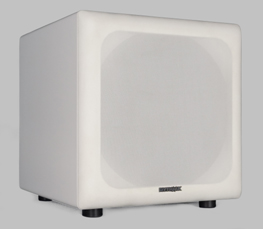 Musical sub on a budget
Looking for an affordable musical that can be also used for moderate home theatre use? L12 uses our proprietary servo design to gain low frequency clarity and articulation. For home theatre use, L12 has a HT playback mode with rumble filter to limit less audible sub-sonic contents. While many of our competitors limit their best technology (such as servo) to their top level models, we wanted to make Direct Servo affordable, so we've held nothing back. As a result, you get the tight and music bass you wouldn't normally expect from a subwoofer at this price range. L12 is likely the least expensive servo subwoofer on the market.
Direct Servo Technology
You may have heard about other servo subwoofers which are generally well regarded for their accuracy. It is a well established technology, most often based around an accelerometer which measures cone movement. Our Direct Servo technology has significant advantages over other servo technologies. We use a sensing servo coil which acts like a microphone which compares the original signal to what the subwoofer is actually reproducing. The signal is then corrected instantly to compensate for any differences. Once you understand the concept, you may wonder like we do why anyone would make a subwoofer any other way.
Some of the benefits of Direct Servo include:
Dramatic reduction of the re-radiation of bass from inside the box (a major cause of boxy bass)
Reduction of the effects of thermal compression are eliminated under normal operation
Higher efficiency allowing output which would normally require a more powerful amplifier
Deep bass extension can be achieved using a low mass driver with superior transient response
Mechanical and thermal memory effects are reduced, further improving transient response
Much greater damping control over the cone with the effective in-box Q value of 0.3 (0.1 for driver itself) resulting in much tighter and accurate bass than conventional designs of typical in-box Q value of 0.8-0.9
Dramatic reduction of the re-radiation of bass from inside the box
Read more about Direct Servo in our technology section.
View animation demonstrating how Direct Servo works

Continue to Options & Features