Customer Testimonials
| | |
| --- | --- |
| Reviewer: | Randy B |
| Product: | L12 |
Hi, Enrico. I received the L12 yesterday and have integrated it into my system with a cross-over at about 55Hz. Integration was seamless and quite easy. Moreover, the sizenof the L12 fits perfectly into my room. I've left on the grill as I have not noticed any material difference in sound with it removed; does Rythmik recommend orherwise?
The L12 has made a huge difference in that: (a) it gives me that extra bit of articulate, bottom "oomph" for which I have been looking, without sounding boomy; and (b) mids and highs have more clarity and presence, perhaps due to relieving the cross-overs from digging down deep. This is my first experience with a sealed subwoofer and it has really improved my system and listening experience tremendously ... plus, it has prevented me from spending $9K on new speakers, just to get that little "extra" low end which the L12 provides in abundance.
Thanks to the folks at Rhythmik for designing and making such a great product.
Regards,
Randy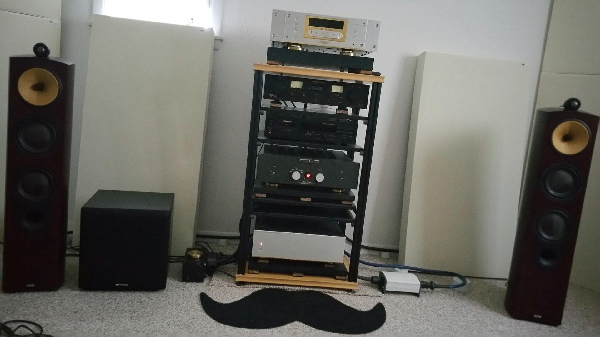 top
| | |
| --- | --- |
| Reviewer: | Zachary W. |
| Product: | L12 |
Hi All,
I purchased an L12, and I thought I would go ahead and provide a quick user review.
Integration of the L12 with my floorstanders was quick and seamless, despite my initial misgivings toward pairing a sealed sub with ported towers. The sub does not call unnecessary attention to itself, but instead totally blends in. Though my towers are supposedly flat to around 40hz, I found that the quality and quantity of the bass from the L12 in their overlapping frequency response ranges was superior to that of the towers, and so I ended up setting the crossover much higher at 80hz.
To my ears, the L12 seems to play flat all the way down to the limit of my hearing. The bass is crisp, snappy, and dry; for example, its strengths become especially apparent when listening to double kick drums. I became convinced of the value of the servo control when I realized that the bass was distinctly reminiscent of my electrostatic headphones, albeit with far more punch. Compared to everything else I've heard, no other subwoofer or dynamic speaker has come close to that category of transient response. And, even though it is sealed, it gets plenty loud enough for HT use in my current, small-sized room. Definitely recommended.
Cheers,
Zachary W.

top
| | |
| --- | --- |
| Reviewer: | Terry D. |
| Product: | L12 |
Hi Lynn
I received one of your L12 for Christmas and after hours of work with a frequency generator to find just the right place to put it. I discovered a low note in my dvd audio recording of Pink Floyd Dark Side of the Moon i did not know exsited on the song. I have heard this album one time at a planetarium on a very expensive sound equipment and don't remember that low note. What a incredible Sub you folks build for families like us on a (limited budget). Thank you very very much!
Terry D.


top