Customer Testimonials
| | |
| --- | --- |
| Reviewer: | Oliver B. |
| Product: | L12 |
Hi,
I just wanted to let you know I have received my L12 and I am VERY satisfied with it. Thanks for the thoughtful packaging, it arrived in perfect condition. The finish is actually nicer than I expected. As for the sub output, it outperforms all others I have tried had before (Martin Logan, SVS, ...). By the way, your tutorials on your website are excellent and have helped me easily integrate the sub.
I am hardpressed to find any area you could improve. I guess it means you can raise your prices ??
Chances are I'll be getting a second L12 in the near future.
Thank you very much!

top
| | |
| --- | --- |
| Reviewer: | Charlie N. |
| Product: | L12 |
I've never reviewed a subwoofer before, but I felt compelled to do so after my experience with Rythmik. I had a unique sound situation in my space, and Brian actually spoke with me at length to offer advice, despite living through the storm of the century at the time! So come for the customer service, but stay for the sound. Oh and the sound... I was concerned that a single "entry level" L12 subwoofer would be lacking in some way compared to my old dual Martin Logan subwoofers. Boy was I wrong! I didn't know bass could sound this clean, articulate and natural until I went with Rythmik. I can't see myself ever buying a sub from anywhere else!


top
| | |
| --- | --- |
| Reviewer: | William A. |
| Product: | Dual L12 |
Brian/Enrico -
Thank you for your feedback.
I am still in the process of fine tuning and testing a long list of tracks. But, my 2 channel music setup with the Adante has never sounded this good thanks to the dual L12s.
Years ago, i got on the hype train for a different sub (influenced by the audiophile forums) and my constant dissatisfaction led to making many mistakes/replacing electronics/replacing speakers/overcomplicating my room treatments, etc and went down the rabbit hole. You have no idea how much cash i have tossed down the drain over the years.
Thank you for rescuing me Andrew Jones+Brian
- William


top
| | |
| --- | --- |
| Reviewer: | Randy R. |
| Product: | L12 |
Hi Brian, I found your company by doing Google searches for a commercial version of the sub I would build if I had the know-how, which is to say sealed, paper drivered, SQ and music oriented, and biased toward integration, articulation, and genuine extension over bombast. I also needed it to be small and affordable because I'm married and a working stiff. Bought an L12, and man if it wasn't just what I was hoping for. Mates with my snooty Exposure integrated amp and fancy but aged Spendor speakers like nobody's business. I guess that probably means we\'re both geniuses. Anyway, Thanks, Randy

top
| | |
| --- | --- |
| Reviewer: | Tri Le |
| Product: | L12 |
Hi Rythmik, I just wanted to say thank you for making such an amazing and affordable product. I had a polk subwoofer before and it was ok for movies, but during music it was slow and did not hit the frequencies with the correct timing and sound. My music without proper subwoofer was flat and disappointing even though my towers were extremely accurate and fast. A friend recommended your product and after comparing with a few other brands SVS and HSU, I settled on Rythmik. I\'m glad I did it was the best decision. I needed something compact, but had loud and accurate sound, so I settled on the L12. Deep down I really wanted the F15, but I didn\'t have room for it. Well the L12 was the perfect size and once we fired it up it shook my house and all of our hearts. I\'ve never heard music extend so deep with such clarity and precision before. I honestly can\'t imagine what the F15 or the F18 must sound like, one day I will. But for now I am extremely satisfied with the L12 and the price is astonishingly affordable. Please continue to make wonderful products and I hope your company will be around forever making great products. Regards, Tri

top
| | |
| --- | --- |
| Reviewer: | Randy B |
| Product: | L12 |
Hi, Enrico. I received the L12 yesterday and have integrated it into my system with a cross-over at about 55Hz. Integration was seamless and quite easy. Moreover, the sizenof the L12 fits perfectly into my room. I've left on the grill as I have not noticed any material difference in sound with it removed; does Rythmik recommend orherwise?
The L12 has made a huge difference in that: (a) it gives me that extra bit of articulate, bottom "oomph" for which I have been looking, without sounding boomy; and (b) mids and highs have more clarity and presence, perhaps due to relieving the cross-overs from digging down deep. This is my first experience with a sealed subwoofer and it has really improved my system and listening experience tremendously ... plus, it has prevented me from spending $9K on new speakers, just to get that little "extra" low end which the L12 provides in abundance.
Thanks to the folks at Rhythmik for designing and making such a great product.
Regards,
Randy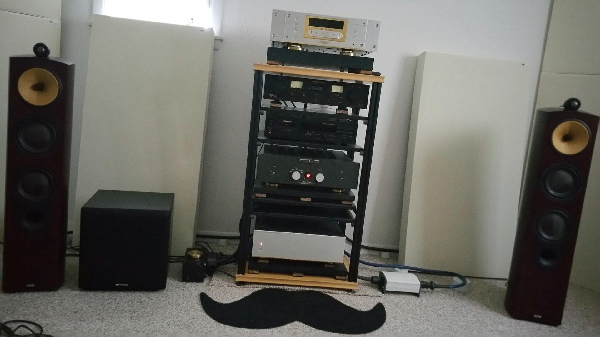 top
| | |
| --- | --- |
| Reviewer: | Zachary W. |
| Product: | L12 |
Hi All,
I purchased an L12, and I thought I would go ahead and provide a quick user review.
Integration of the L12 with my floorstanders was quick and seamless, despite my initial misgivings toward pairing a sealed sub with ported towers. The sub does not call unnecessary attention to itself, but instead totally blends in. Though my towers are supposedly flat to around 40hz, I found that the quality and quantity of the bass from the L12 in their overlapping frequency response ranges was superior to that of the towers, and so I ended up setting the crossover much higher at 80hz.
To my ears, the L12 seems to play flat all the way down to the limit of my hearing. The bass is crisp, snappy, and dry; for example, its strengths become especially apparent when listening to double kick drums. I became convinced of the value of the servo control when I realized that the bass was distinctly reminiscent of my electrostatic headphones, albeit with far more punch. Compared to everything else I've heard, no other subwoofer or dynamic speaker has come close to that category of transient response. And, even though it is sealed, it gets plenty loud enough for HT use in my current, small-sized room. Definitely recommended.
Cheers,
Zachary W.

top
| | |
| --- | --- |
| Reviewer: | Terry D. |
| Product: | L12 |
Hi Lynn
I received one of your L12 for Christmas and after hours of work with a frequency generator to find just the right place to put it. I discovered a low note in my dvd audio recording of Pink Floyd Dark Side of the Moon i did not know exsited on the song. I have heard this album one time at a planetarium on a very expensive sound equipment and don't remember that low note. What a incredible Sub you folks build for families like us on a (limited budget). Thank you very very much!
Terry D.


top