Performance & Specifications
In the chart below, with bass extension controls set to Low Music, the response is 3 db down at 20Hz. The response is flat and extended.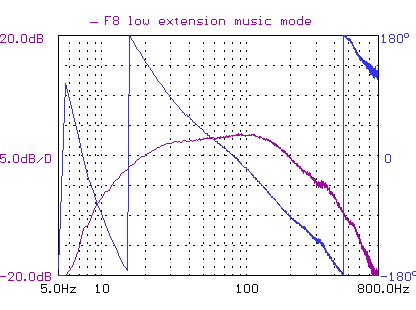 F8 features bass extension switch allowing users to select among 3 different modes: Low Music (Q=0.5), Low HT (with a 18db/oct rumble filter at 20hz), and High (with 18db/oct bass extension at 28hz).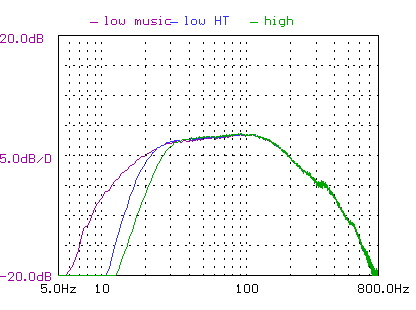 Integration
F8 provides a 12/24 db/oct switchable low pass filter to so that it can easily integrate with any front speakers.
Another aspect of getting a correct integration is phase alignment between the front speakers and the sub. We have written a guide on how to achieve a phase aligned subwoofer. F8 has a phase/delay adjustment knob. More

Output, extension and user preferences
The bass extension switch allows the user to customize the deep bass extension and the rumble filter to control cone excursion. For HT application, one can set the extension to Low-HT or High for higher SPL output. For music one may prefer a lower cut off such as Low-Music setting. Changing the settings can also result in a better integration with the acoustic gain of the room.
Driver
dual 8" high excursion with custom sensing coil
Driver materials
paper cone with lightweight foam surround
Cast aluminum basket
Copper flux de-modulation shorting rings
Amplifier
600WRMS class D (dual Hypex Ucd modules) patented servo controlled
Dimensions
11"(W) x 20" (H )x 15-1/2" (D) with grille and amplifier knobs
Shipping Weight
68 lbs
Frequency Response
18 - 250 Hz (-3 dB @ 20Hz)
Crossover slope
Selectable 12 or 24 dB / octave
Crossover range (Low pass)
50 - 200 Hz
Rumble Filter (High pass )
20 Hz 18 dB / octave
Phase response
120 degrees phase shift at 20 Hz
Phase adjustment
0 - 180 degrees continuously variable
Bass damping factor
Low music (Q=0.5), Low-HT(Q=0.9), and high (Q=0.8)
Standy power
7W (standby, red light), 13W(ON,green light)
Finishes
Available in black matte vinyl or black oak vinyl
(Piano Gloss available in signature edition only)
Warranty
5 years warranty on driver and 3 years on electronics
45 day satisfaction guarantee