Features & Options
Product features include:
All our subwoofers feature our Direct Servo technology, which is our secret to achieving tight and accurate bass. The benefits are far more than simply achieving low distortion.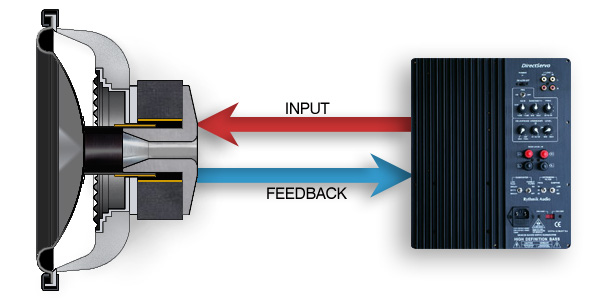 Learn more in our technology articles

Hypex Ucd module-based amplifier
Hypex Ucd modules are known among audiophiles to be one of the best sound class-D modules. While class-D can reduce the footprint of amplifiers, other companies have further incorporated switching power supplier to save cost and space. However, the disadvantages of switching power supplier are complexity of circuit leads to higher failure rate, higher compression at high transient current demand, and inflexibility of 120/240V switchable operation.
12" light weight paper high excursion driver
Driver features include:
Light weight paper cone
Low moving mass to ensure an exceptional transient response
High flux density in the gap to ensure low distortion
Flux modulation shorting rings to lower inductance and improve linearity
Extended upper bandwidth response allowing a higher crossover point than most
Our enclosures are very solid and well braced to minimize any cabinet resonances or coloration. Customer can choose either black oak or black matte finish.
| | |
| --- | --- |
| | The bass extension control enables the user to customize the frequency response of the low end for the best trade-off between output and extension. If set to low music, bass has the lowest phase shift among ported subs. However, the disadvantage is slower attenuation of subsonic signals. For HT application, we recommend low-HT mode which incorporates an additional 2rd order highpass filter to filter out subsonic signals below 20hz. High extension setting is recommended for application where longer playback time and lower power consumption is required. |
To suit different setups, we provide a 12 db and 24 db/octave crossover. If you are still using stereo receiver or conventional pre/power amp setup, then we recommend the 24 db switch setting. To understand more about how to correctly integrate your subwoofer, read our phase alignment article.
120V-240 Switchable Voltage Selection
Correct voltage must be selected before use. Voltage switch is shown below.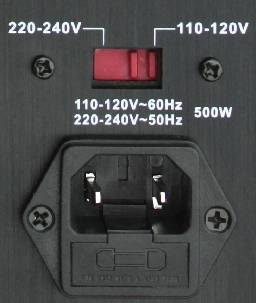 More information