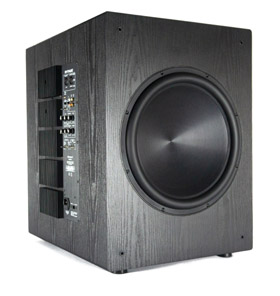 Dual Opposed Mounting and Direct Servo Technology
Dual opposed subwoofers mount two drivers on opposite walls of enclosures in an effort to reduce the reaction force exerted onto the enclsoure from drivers . However, the disadvantage of the conventional non-servo dual opposed subwoofers is the boxy bassinside the enclosure is still audible with re-radiation via the cones. With our patented Direct Servo technology, it enables precise control over the cone to resist and dissipate any energy acting on the cone and the so-called re-radiation of boxy bass coloration can be reduced by up to 10x in energy. This is essential for tight, dynamic and accurate bass. It also counteracts many different driver non-linearities and allows us to use lighter drivers which avoid the need for excessive amounts of amplifier power.
Some of the benefits of Direct Servo include:
Dramatic reduction of the re-radiation of bass from inside the box, which is commonly referred to as boxy bass.
The effects of thermal compression are eliminated under normal operation
Higher efficiency allowing output which would normally require a more powerful amplifier
Deep bass extension can be achieved using a low mass driver with superior transient response
Mechanical and thermal memory effects are reduced, further improving transient response
The (temperature-independent) effective in-box Q value is 0.3 (0.1 for driver itself) resulting in much tighter and accurate bass than conventional designs with typical value of 0.8-0.9 (and even higher when voice coil becomes hot)
Read more about Direct Servo in our technology section.
View animation demonstrating how Direct Servo works

HX2000XLR3 Amplifier and Dual DS1520 Driver
G25HP comes with grilles. The above photo is shown with grill taken off. It uses our new high power HX2000XLR3 servo amplifier and two DS1520 driver. DS1520 features anodized aluminum cone, a 3" voice coil, and 200 oz magnet. Its linear excursion range has increased to +/- 20mm.
The quickguide of the HX2000XLR3 amplifier for sealed subs can be found here . The installation guide can be found here. The response curves with various extension frequency/damping combinations of both amplifiers can be found in our EQ page.
The sub comes with standard screw-in rubber feet. Chrome spike feet are sold separately.
G25 has received AVS 2018 Top Choice Award.

Introductory price includes freight shipping to 48 US continental states only. Shipping to other region or country should inquire us for actual cost. Each G25HP sub comes with complimentary mover pads for either carpet or hard floor, but not both. Please select one in the order.
All G25HP flat white is on back order till mid Jan. Please sign up for waitlist.
Customers in Hong Kong alert: we have only sold one piano finish unit in Hong Kong and unfortunately that unit has been blacklisted due to a credit card fraud. We will not provide any service to blacklisted units. Please check with us for details if you intend to buy a used G25HP in that region.
A few things to note for freight delivery: 1) Freight delivery is not as date-accurate as UPS ground delievery. Do prepare for unexpected delay, 2) If the order can be delivered without appointment/signature required, there is a $30 credit. Please use the order button to do so. The options available in the checkout process are for UPS ground only, and 3) All freight delivery included with the price is standard curb side delivery. Inside delivery and gararge delivery are extra and please ask us for a quote.
| | | | |
| --- | --- | --- | --- |
| | Description: FREE SHIPPING to 48 US continental STATES | Price | |
| | G25HP black oak finish with HX2000XLR3 amplifier and dual opposed black cone driver with freight shipping | $2650 | |
| | G25HP black matte finish with HX2000XLR3 amplifier and dual opposed black cone driver with freight shipping | $2650 | |
| | G25HP-SE piano black finish with HX2000XLR3 amplifier and dual opposed black cone driver with freight shipping | $3000 | |
| | G25HP-white flat white finish with HX2000XLR3 amplifier and dual opposed black cone driver with freight shipping (back order till early Mar) | $3000 | |
| | Delivery without appointment/signature required (per order) | $-30 | |
| | Upcharge for shipping to New York City and Long Island(per unit) | $150 | |
| | Upcharge shipping to these states: WA/OR/MT/ID/VT/MA/NJ/NY(per unit) | $100 | |
| | A set of 4 large furniture mover pads for carpet | $10 | |
| | A set of 4 large furniture mover pads for hard floor | $10 | |