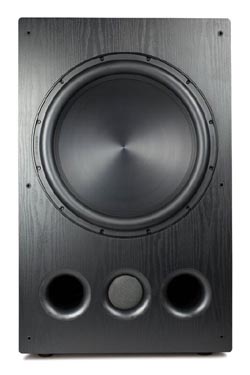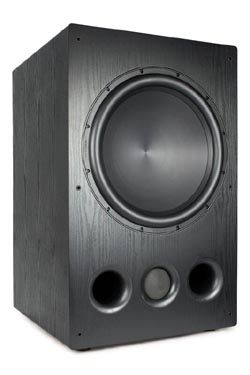 LFE meets accuracy and control
FV18 is our answer to the need for a high power home theatre solution that retains the dynamic and accurate bass that we have become known for. Correctly integrated, our vented subwoofers can achieve the tight bass normally associated with a sealed enclosure, yet with greater low frequency output. We recommend this subwoofer for systems in which home theatre has a high priority.
Direct Servo Technology
All our subwoofers use our patented Direct Servo technology. The servo enables precise control over the cone which is essential for tight, dynamic and accurate bass. It also counteracts many different driver non-linearities and allows us to use lighter drivers which avoid the need for excessive amounts of amplifier power.
Some of the benefits of Direct Servo include:
Dramatic boxy sound reduction of the re-radiation of bass from inside the box
Thermal compression are eliminated under normal operation
Higher efficiency allowing output which would normally require a more powerful amplifier
Deep bass extension can be achieved using a low mass driver with superior transient response
Mechanical creep memory effects are reduced, further improving transient response
The (temperature-independent) effective driver Q value is 0.1 resulting in much tighter and accurate bass than non-servo drivers with typical Q value of 0.3-0.5 (and even higher when voice coil becomes hot)
Read more about Direct Servo in our technology section.
View animation demonstrating how Direct Servo works

HX1000XLR3 Amplifier and DS1820 Driver
FV18 comes with a grille. The above photo is shown with grill taken off. It uses our new high power HX1000XLR3 servo amplifier and the standard metal cone DS1820 driver. DS1820 features anodized aluminum cone, a 3" voice coil, and 240 oz magnet. Its linear excursion range is +/- 20mm.
The standard amplifier is HX1000XLR3. The quickguide of the XLR3 amplifier for vented subs can be found here . The FV18 installation guide can be found here . The response curves with various extension frequency/damping combinations of both amplifiers can be found in our EQ page.
The sub comes with standard screw-in rubber feet. Chrome spike feet are sold separately.
Paper Cone vs Metal Cone and Independent Lab Test Results
Standard FV18 version uses metal cone DS1820 for its stiffness and low distortion. The independent test lab site www.data-bass.com has published the max distortion numbers for our metal cone FV18 and F18. The F18 has lower distortion and yet more output than Velodyne DD18+ for 1/3 of the price. Paper cone like the one used in Velodyne DD18+ can be made lighter than metal cone and therefore improve outputs above 50hz by up to 3db with the sacrifice of slightly higher distortions. For those who are after the maximum headroom in HT application may consider the paper cone version FV18SW (with paper cone SW1825). The order links are towards the bottom of this page.
The sale price includes freight shipping to 48 US continental states only. Shipping to other region or country should inquire us for actual cost. Each FV18 sub comes with complimentary mover pads for either carpet or hard floor, but not both. Please be sure to select one.
The credit for freight center pickup is $50. There is a $150 surcharge per unit to shipping to New York City and Long Island as freight companies charge more in NYC and Long Island. There is a $100 surcharge per unit to shipping to Washington State.
Documentation:
Quickguide
Integration guide
Metal Cone Version
| | | | |
| --- | --- | --- | --- |
| | Description: with US 48 states shipping included (please so fill in contact phone number for freight delivery) | Price | |
| | FV18 black oak grain finish Rev2 with HX1000XLR3 amplifier and multi-tune | $2149 | |
| | FV18 black matte finish Rev2 with HX1000XLR3 amplifier and multi-tune | $2149 | |
| | Upcharge for shipping to New York City and Long Island(per unit) | $150 | |
| | Upcharge for shipping to Washington State(per unit) | $100 | |
| | Customer picks up FV18 from freight terminal (per order, not unit) | -$50 | |
| | A set of 4 large furniture mover pads for carpet (add-on per FV18 order) | $0 | |
| | A set of 4 large furniture mover pads for hard floor (add-on per FV18 order) | $0 | |
Paper Cone Version
Newer paper cone after 2020 has a black coating for aesthetic reason. If matching to older grey color cone is needed, please contact us.
| | | | |
| --- | --- | --- | --- |
| | Description: Paper cone Rev2 ((with RCA and XLR inputs) | Price | |
| | FV18SW black oak grain finish Rev2 with paper cone driver | $2089 | |
| | FV18SW black matte finish Rev2 with paper cone | $2089 | |
| | Upcharge for shipping to New York City (per unit) | $150 | |
| | Customer picks up FV18 from UPS freight terminal (per order, not unit) | -$50 | |
| | A set of 4 large furniture mover pads for carpet (add-on per FV18 order) | $0 | |
| | A set of 4 large furniture mover pads for hard floor (add-on per FV18 order) | $0 | |