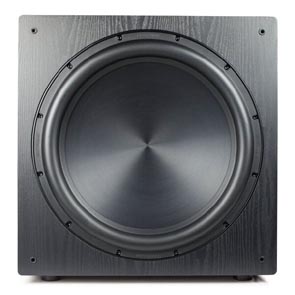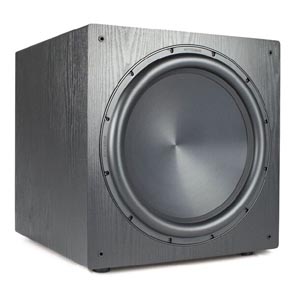 Finesse meets brute force
Our servo technology is scalable to all subwoofer designs as well as driver size. F18 is our largest single driver sealed subwoofer to meet the needs for a high power home theater solution that retains the dynamic, accurate, and deep bass that we have become known for. Its max output at 20hz is at least 8db higher than that of our 12" sealed model F12 and more than 11db higher than our competitior's 12" model SB** measured by data-bass.com. The amplifier is based on Hypex audiophile class-D module. With the combination of the servo feedback and stiff aluminum cone, we have achieved lower distortion than competitor's 18" servo subwoofers (DD18+) with the same or even higher maximum SPL output from 10hz to 100hz , as tested at data-bass.com. In fact, F18 has recorded the lowest THD numbers at the maximum SPL output than any other subs tested. Our servo technology is scalable to all subwoofer designs as well as driver sizes.
Direct Servo Technology
All our subwoofers use our patented Direct Servo technology. The servo enables precise control over the cone which is essential for tight, dynamic and accurate bass. It also counteracts many different driver non-linearities and allows us to use lighter drivers which avoid the need for excessive amounts of amplifier power.
Some of the benefits of Direct Servo include:
Dramatic boxy sound reduction of the re-radiation of bass from inside the box
Thermal compression are eliminated under normal operation
Higher efficiency allowing output which would normally require a more powerful amplifier
Deep bass extension can be achieved using a low mass driver with superior transient response
Mechanica creepl memory effects are reduced, further improving transient response
The (temperature-independent) effective in-box Q value is 0.25 (0.1 for driver itself) resulting in much tighter and accurate bass than conventional designs of in-box Q value of 0.75-0.80 (and even higher when voice coil becomes hot)
Read more about Direct Servo in our technology section.
View animation demonstrating how Direct Servo works

HX1000XLR3 Amplifier and DS1820 Driver
F18 comes with a grille. The above photo is shown with grill taken off. It uses our new high power HX1000XLR3 servo amplifier and metal cone DS1820 driver. DS1820 features anodized aluminum cone, a 3" voice coil, and 240 oz magnet. Its linear excursion range is +/- 20mm.
The standard amplifier is HX1000XLR3. The quickguide of the XLR3 amplifier for vented subs can be found here . The F18 installation guide can be found here . The response curves with various extension frequency/damping combinations of both amplifiers can be found in our EQ page.
The sub comes with standard screw-in rubber feet. Chrome spike feet are sold separately. The price includes UPS ground shipping to 48 US continental states only. Overseas shipping is extra and requires quote before placing order. Multiple subs will be shipped via freight.
Those arriving late Dec (due to container delay) have been booked. New orders are for those arriving late Jan.
| | | | |
| --- | --- | --- | --- |
| | Description: with US 48 states shipping included (overseas customers who need air shipping please do not place order with these links) | Price | |
| | F18-SE piano black finish with HX1000XLR3 amplifier and black alu cone driver (back order late Jan) | $2070 | |
| | F18 black oak finish with HX1000XLR3 amplifier black alu cone driver and 48 states shipping (back order till late Jan) | $1849 | |
| | F18 black matte finish with HX1000XLR3 amplifier black alu cone driver and 48 states shipping (back order late Jan) | $1849 | |
| | Change to silver cone driver for one F18 subwoofer | $100 | |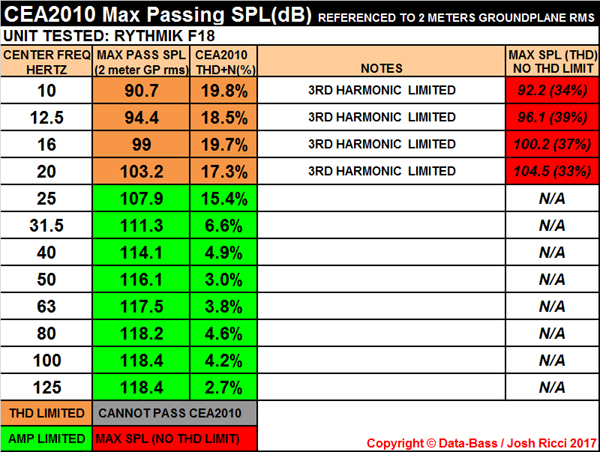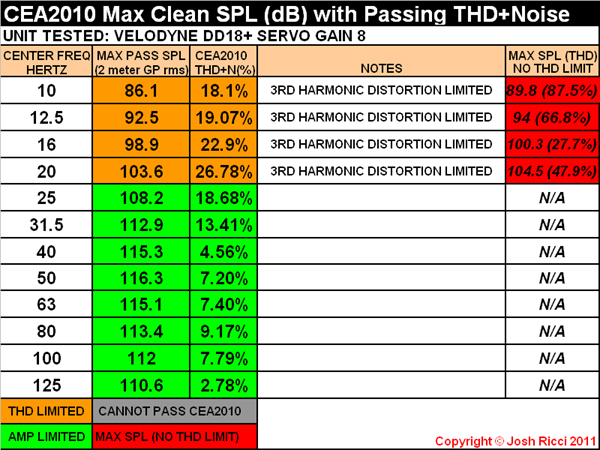 Independent Lab Test Results of Low Distortion and Textbook-like Impulse response
The independent test lab site www.data-bass.com has published the max distortion numbers for F18 and Velodyne DD18+ (courtesy of Josh Ricci). The F18 has lower distortion and yet more output than Velodyne DD18+ for 1/3 of the price. In addition, the test results also include the impulse response of 18hz high damping which shows minimal ringing, a testament of F18 articulation bass sound.