F12G Direct Servo subwoofer
12" sealed audiophile sub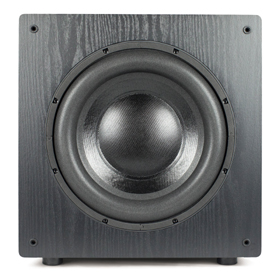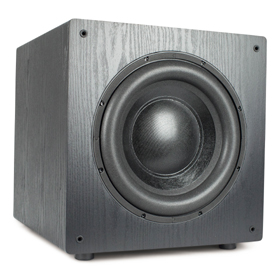 F12G has received Positive Feedback 2020 writer's Award. Click the award for the article.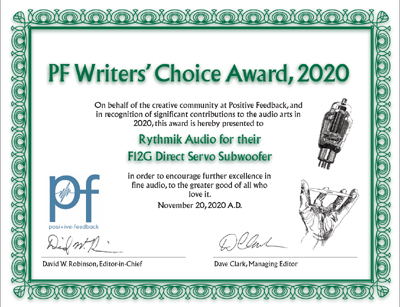 The standard amplifier is A370PEQ (370WRMS PEQ) with LINE in and HPF output. It has no LFE in. The response curves with various extension frequency/damping combinations can be found in our EQ page
The sub comes with screw-in rubber feet. Spike feet are available as add-on for $25 with no exta shipping cost. Price includes shipping to 48 US continental states only. Shipping to other region or country should inquire us for actual cost. Due to tariff increase, we have reduced the mult-sub discount to 5%.
Our speaker level inputs are only compatible with power amplifiers having single ended outputs with black lead output labelled as "COM", "GND", or "Ground". Wyre4sound power amplifiers and others with differential outputs are not compatible. These amps need an XLR type 3-wire (one positive, one negative, and one ground) for safe operation.
Using Y-splitter on input connection increases the subwoofer gain by 6db. High efficiency horn speakers (105db/Wm and above) may require custom modification for "gain matching" of the volume control knob (not to be mistaken as sub not keeping up with horn speakers) when this connection method is not option (eg, single sub acception both L and R inputs). To summarize, customers who need to consider higher gain are those with all these conditions: 1) has high efficiency horn speakers, 2) has no AVR or pre-processor, and 3) cannot use Y-splitter to connect to multiple inputs on a sub to increase gain by 6db. Please select "High gain" option in the order.
Efficiency of newer Klipsch horn speakers are over-rated by 6db and not an issue for gain matching. Please inquiry us when using our subs with horn speakers if you are not sure what to do.
F12G no longer offers piano black and gloss white finish options.
Documentation:
A370PEQ Quickguide
A370PEQ3 Quickguide (discountinued)
A370XLR2 Quickguide
A370XLR3 Quickguide
Integration guide
| | | | |
| --- | --- | --- | --- |
| | Description: non-SE and options | Price | |
| | F12G Black Oak Finish wtih 370WRMS A370PEQ amplifier | $1199 | |
| | F12G Black Matte Finish wtih 370WRMS A370PEQ amplifier | $1199 | |
| | High gain option to match horn speakers | $20 | |
| | Upgrade to A370XLR2 (with one XLR in and one XLR out) | $50 | |
| | Upgrade to A370XLR3 (with two XLR in) | $50 | |
| | A set of black coated metal spike feet (add-on only at time of sub purchase) | $40 | |
| | A set of black coated metal spike feet (purchase without sub) | $50 | |
The subwoofer for audiophiles
For audiophiles looking for uncompromising accuracy, our F12G subwoofer is the ultimate choice. It features our Direct Servo technology to ensure accuracy and definition. As an audiophile you appreciate that bass is the foundation of a satisfying music or home theatre experience. You also appreciate that there is more to a home theatre subwoofer than shaking the room, and that music can be far more satisfying with a subwoofer that can play deep.
What makes our subwoofers suitable for audiophiles? It's not that they can plumb the depths with authority. There are already many subwoofers on the market which can do that. The difference is that they reproduce bass with a level of realism that is normally only associated with much more expensive high end full range loudspeakers.
What is the difference between F12 and F12G?
The main difference is the paper-based GR research driver.
Direct Servo Technology
You may have heard about other servo subwoofers which are generally well regarded for their accuracy. It is a well established technology, most often based around an accelerometer which measures cone movement. Our Direct Servo technology has significant advantages over other servo technologies. We use a sensing servo coil which acts like a microphone which compares the original signal to what the subwoofer is actually reproducing. The signal is then corrected instantly to compensate for any differences. Once you understand the concept, you may wonder like we do why anyone would make a subwoofer any other way.
All our subwoofers use our patented Direct Servo technology. The most significant benefit is that it provides high end performance at an affordable price. Conventional subwoofers require heavy drivers in order to achieve deep bass extension. Direct Servo allows the use of a lighter driver which is more efficient so that a very high powered amplifier is not necessary. At the same time, Direct Servo reduces detrimental memory effects which detracts from the realism of reproduction.
Some of the benefits of Direct Servo include:
Reduction of the effects of thermal compression are eliminated under normal operation
Higher efficiency allowing output which would normally require a more powerful amplifier
Deep bass extension can be achieved using a low mass driver with superior transient response
Mechanical and thermal memory effects are reduced, further improving transient response
The effective Q value is 0.3 resulting in much tighter and accurate bass than conventional designs
Dramatic reduction of the re-radiation of bass from inside the box
Many audiophiles aren't aware of all of these issues, but we believe they are critical to the design of an accurate subwoofer. While it's not necessary to understand them to enjoy accurate bass, for those who wish to understand how we do it, we have articles to describe our unique approach.
Read more about Direct Servo in our technology section.
View animation demonstrating how Direct Servo works

View animation demonstrating the reduction of bass re-radiation

Better value through intelligent design
Many of our customers marvel that we are able to produce such exceptional subwoofers at such a low price. One Direct Servo technology makes it possible, allowing us to get the most out of a 12" driver without the need for kilowatts of power. Don't be fooled into thinking that other more expensive subwoofers with much more powerful amplifiers will offer more output. The output of a subwoofer is determined by how much air the driver can displace, not the power rating of the amplifier. We could supply a more powerful amplifier, but there would be no increase in output, only extra cost.
To understand further how this works, you may wish to read our article on smart Q.
Continue to Options & Features