Featured review
Bass Consumes Us - Darrin C
Darin has written a review which is hosted on his own website. Previously he owned a Sunfire subwoofer but wasn't satisfied with the sound quality. Normally an upgrade costs more money. He upgraded to the 12" Direct Servo kit at a lesser cost than this original subwoofer, and gained not only much better sound quality, but also 10 db more output.
Customer Testimonials
| | |
| --- | --- |
| Reviewer: | Darksky (from Emotivalounge) |
| Product: | DS1510 Silver cone CI |
Quick shot of my F15HP-CI project. I built two of these enclosures. I am incredibly impressed with Rythmik and recommend them wholeheartedly for anyone who wants tight, responsive bass without overhang. These subs are phenomenal. They blend seamlessly with my Focal Chorus speakers. This is the best investment I have made for my HT/Stereo system. I use them for stereo listening everyday. So many nuances of my music were lost to me before adding my Rythmiks.
Thank you Brian and Enrico, you guys really squared me away. -Brad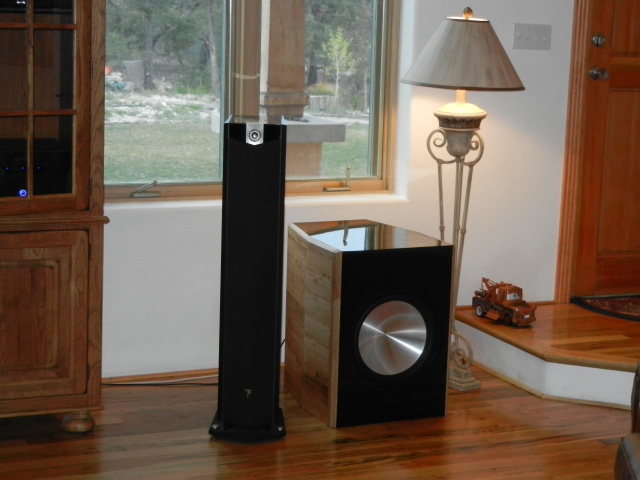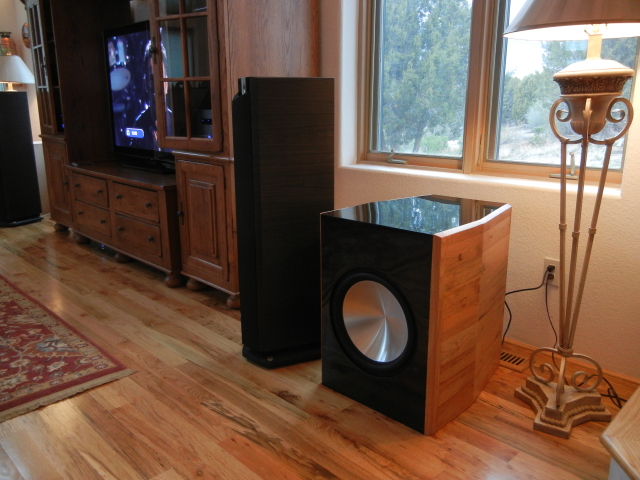 top
| | |
| --- | --- |
| Reviewer: | Stephane E.(France) |
| Product: | SW12-4 CI |
Brian,
No problem old amp is ready I will send it this week.
New amp works very well and I am very happy with the subwoofer.
I would like thank you very much for you help.
Stephane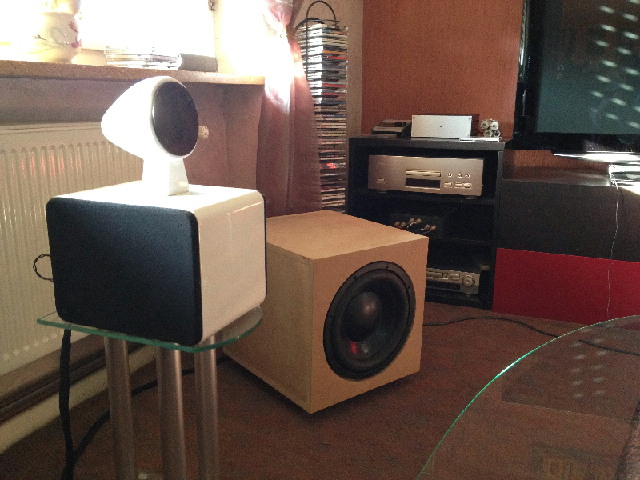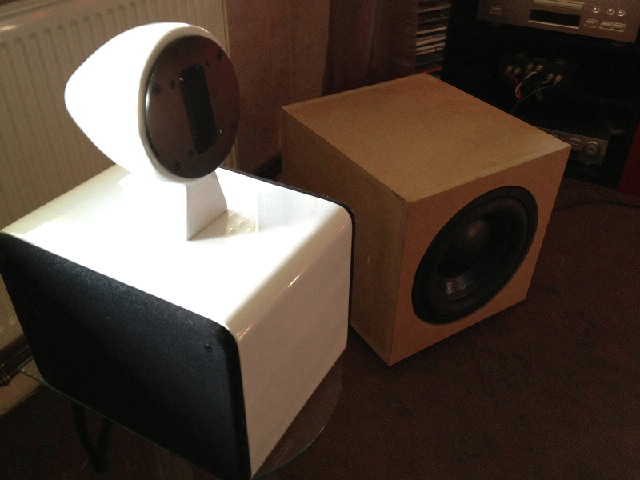 top
| | |
| --- | --- |
| Reviewer: | Leo |
| Product: | DS1510 CI |
Muchas gracias, como siempre.
Te mando unas fotos de c¨®mo quedaron los subs. Igualmente, falta esperar un mes para que se seque la laca y poder pulirlos y que queden perfectos.
Un abrazo.
Leo.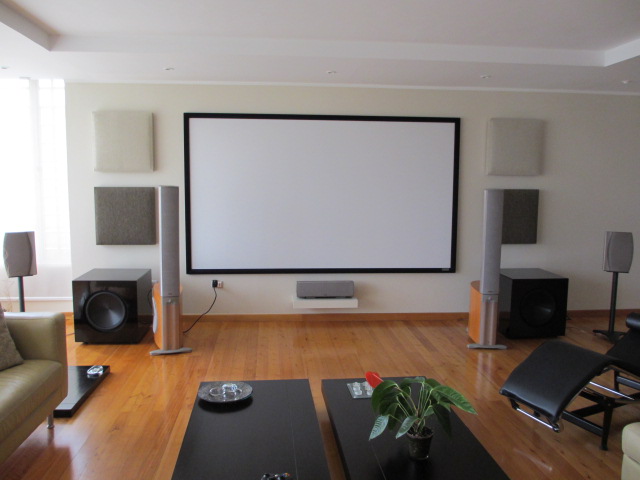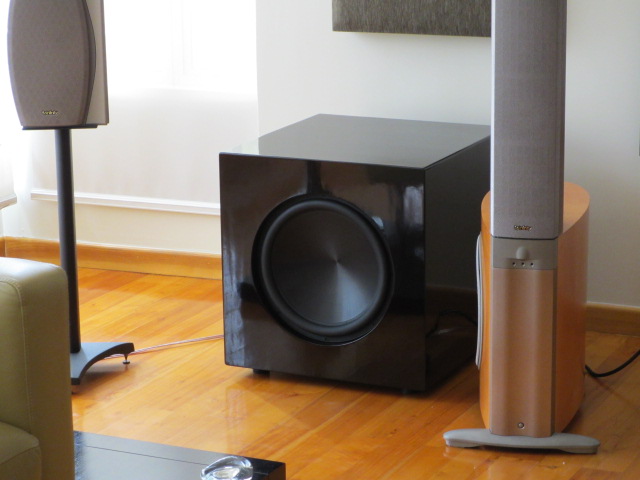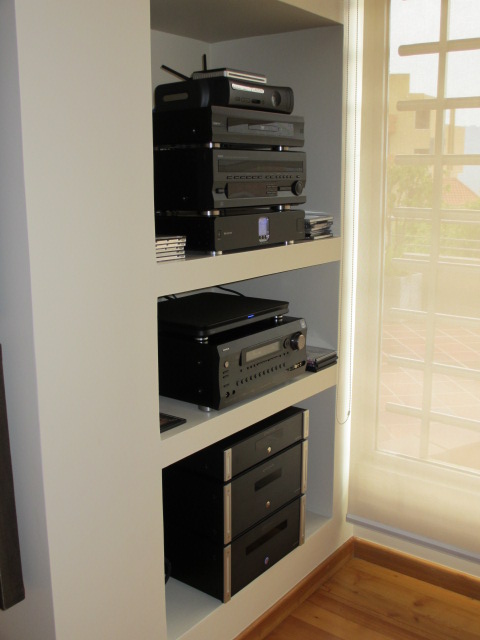 top
| | |
| --- | --- |
| Reviewer: | (Greg) Phatplanetstudio.com |
| Product: | DS1501 CI |
Got both units up and running in conjunction with the open baffles. Baffles are still in prototype form, but sounding sweet.

These subs are sick! Super clean and tight sounding. And extension is just as you advertise, almost 10Hz in my room. I am hearing so much A/C rumble and hall sound in recordings that I'm sure the engineers did not even know was in there. Thanks again for a great product. We will be getting the dual drivers kits for the studio soon.

I will get some better pictures soon, but enjoy these for now.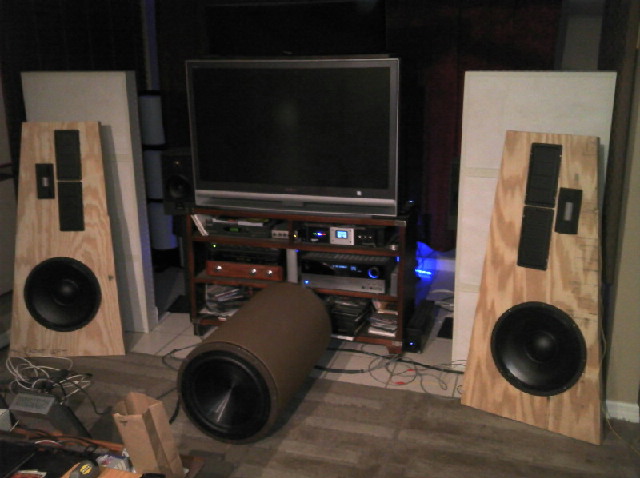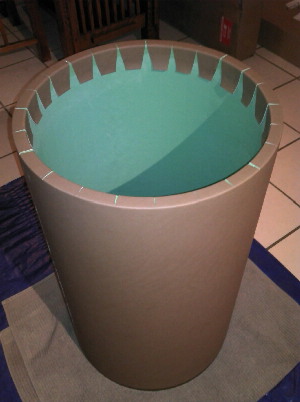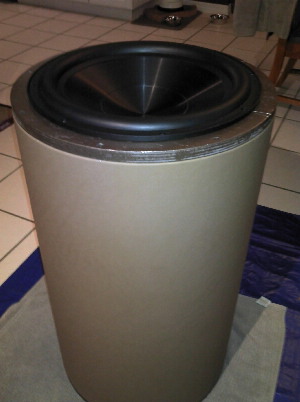 top
| | |
| --- | --- |
| Reviewer: | Jeff K. |
| Product: | DS1501 CI |
Just wanted to let you know that your recommendation on a 15" sub is working out great. I was a little concerned that the larger sub might be a little boomy, but that was not the case at all. The DIY forward-firing option is working great and sounds fantastic! Even with laminate flooring and a crawl space the sub delivers tight, high quality bass.
Do you offer a return customer discount at all?? I might be interested in another one for my main home theater.
Thanks Again,
Jeff K.


top
| | |
| --- | --- |
| Reviewer: | Thane N. |
| Product: | DS1501 CI |
I purchased two units to build and try they sound awesome now that I have one fully broken in performs well with my scan speak speaker build.
Here is a picture of final result going to do the next one in walnut burl more exotic wood finishes.. Let me know when the 800 series is available. Hope to get some orders now. I enjoy the challenge of the boxes. And superior finishes.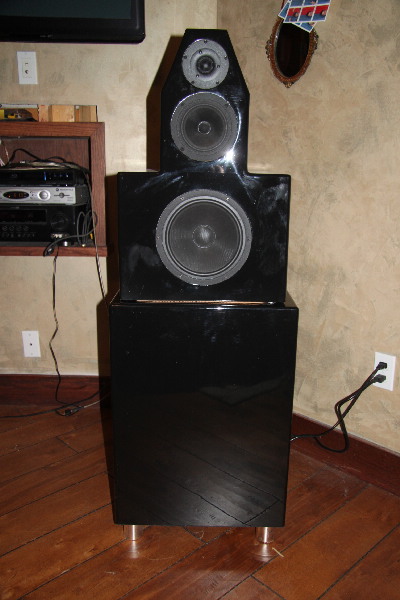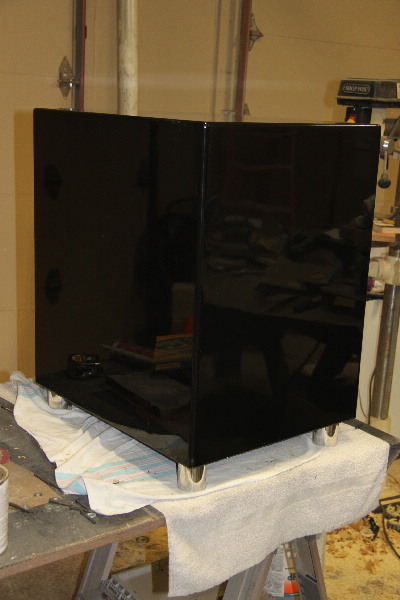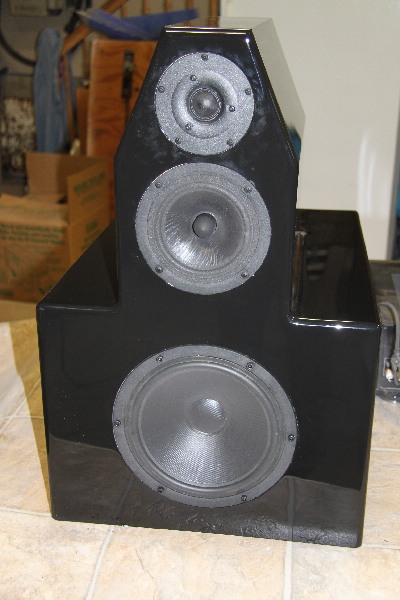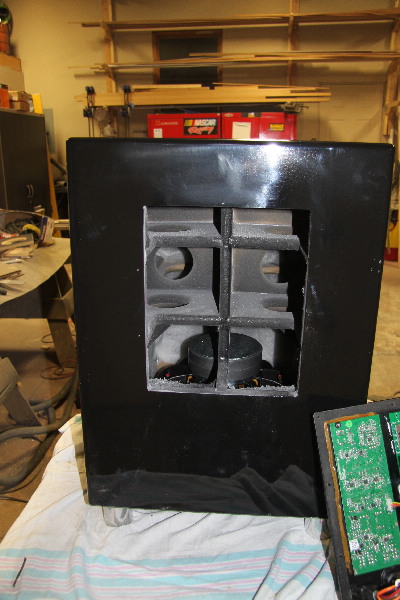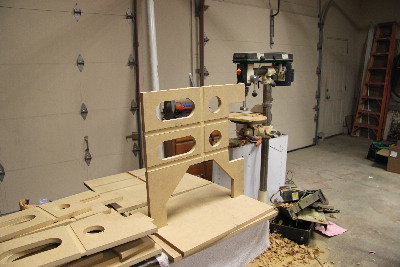 top
| | |
| --- | --- |
| Reviewer: | Peter Orrick |
| Product: | DS1200CI |
Hello Brian-
It's been over 2 years since I ordered your Rythmik basic kit with standard amplifier and 12" metal driver. It's about time to report the results.
I had a carpenter who works for my construction company build the enclosure per your DS 1200 sealed plans. The only difference- I increased the ?" MDF to 1" thickness increasing the overall size a bit and, in a conversation with you, maintained the recommended internal volume.
As you can see from the photos of my den, the sub is placed in the right corner after much experimentation and measurement. It is finished with stained mahogany veneer and I had a heavy piece of granite made to anchor it to the carpeted concrete slab floor (no basement, it's Florida).
The speakers are Waveform eggs (spun aluminum and essentially inert) from Canadian John Otvos's sadly defunct company. You see three of them without their "hoods" in front. It is a 5.1 theater setup with electronics in left corner and a 110" Stewart Firehawk G3 Screen behind. The third photo shows the rear of my den with an Epson 1080 projector and one of the rear channel "hooded" Waveform eggs affixed below the ceiling molding.
As mentioned, the sub was placed according to measurement. I have the Room EQ Wizard Computer Program and used my trusty RadioShack meter (software has built in calibration for your soundcard and the shack meter) to find the best position i. e. closest to flat response. This also came in handy in adjusting phase at the 80HZ crossover- love that adjustable phase control! You can find this free download program on Home Theater Shack, I highly recommend it. I then adjusted the response via a Behringer 24/94 Feedback Destroyer Parametric equalizer such that the response is +/- 2db between 80 Hz crossover frequency and 20Hz- these parametric equalizers are cheap at just over $100! I am using a house curse, per Home Theater Shack, which has a +6 rise from 80 Hz to 30Hz to compensate for the ear's lower sensitivity to low octaves (Fletcher-Munson Curve?).
How does it sound? In my 12'W x 15'D x 9'H (1620 cubic feet) den, it's awesome -tight and deep, no localization- on both stereo music and 5.1 home theater. Admittedly, I listen at lower average levels than most (60db for music, a bit higher for movies) but even when I crank it up for my audio club buddies- 85db peaks, it's no problem.
Sorry to say, since I plan to die in my den, it appears I won't have need for another Rhythmic Sub as this one is sufficient for my needs. But for future shoppers, it's a great kit at a great price and if you don't have a friend who can build an enclosure, the completed product's pricing seems like a steal as well.
Peter Orrick
Vero Beach, FL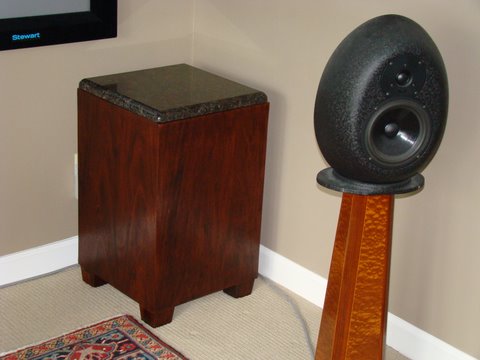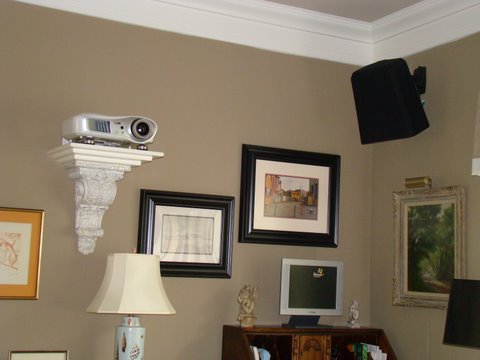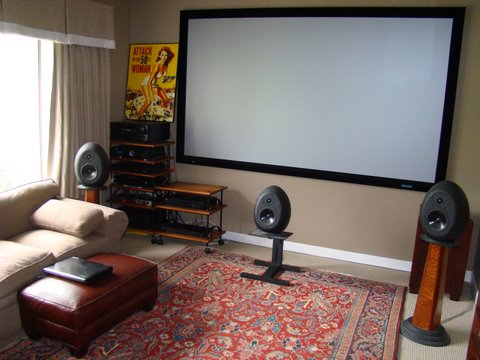 top
| | |
| --- | --- |
| Reviewer: | R Clark (IL) |
| Product: | DS1501 CI |
Brian,

The DS1501 4ohm sealed 3 cu ft , with 12-24db A370PEQ2 servo amplifier subwoofer sounds great. It has added a whole new world to my Home Audio system.

The cabinet is 3/4 MDF with a cherry veneer and solid cherry framing. Built per your diagrams plus framing.

Thank you for everything.

Rich

top
| | |
| --- | --- |
| Reviewer: | Yuri (Russia) |
| Product: | DS1510/H600 |
§£§ã§Ö§Ô§à §ã§Ñ§Þ§à§Ô§à §Õ§à§Ò§â§à§Ô§à!!!
§­§Ú§ç§à§Ó§à§Ý §À§â§Ú§Û §¤§Ö§à§â§Ô§Ú§Ö§Ó§Ú§é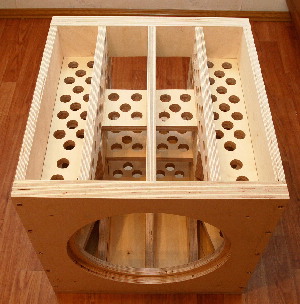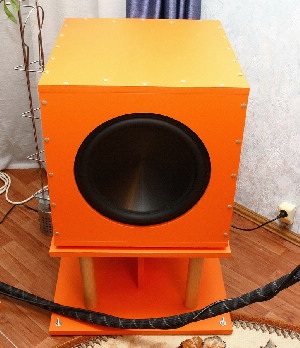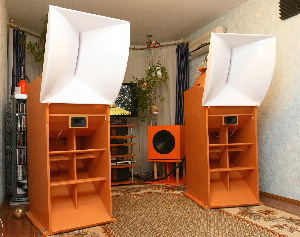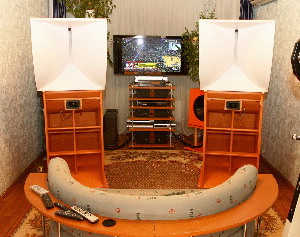 top
| | |
| --- | --- |
| Reviewer: | J-M L.(Finland) |
| Product: | DS1510 CI with H600 |
I made "new" box (thicker and heavier) and forgot how they were.
New box is 44mm thick mdf, about 60kg total, i just clued 25mm over to 19mm.
It does not vibrate that much anymore.
Should it be better if box has low rubber feet so box can "live" a bit or should it be better to stay in solid legs like spikes?
I must say, this is best sub what i ever had, i bought this only for LFE track for movies and i were bit surpriced when i tryied it for music with Dali Euphonia ms5 (14k€), i has almost as good sound as Dalis does. Seriously good value for money.
Maybe i order another one someday...
J-M

top
| | |
| --- | --- |
| Reviewer: | David W. |
| Product: | DS1200CI |
I recently purchased a DS1200 CI and have just finished the enclosure. I want to tell you how happy I am with the sound quality. It is phenomenal! I have never heard such tight, accurate bass from a subwoofer. I am strictly a stereo guy, no HT. The DS12000 replaces a Velodyne Optimum-10. I have had many subwoofers over the years, but none that have satisfied me until now. I am wildly impressed with the DS1200's ability to fill a large room with clean bass. A bass drum sounds like a bass drum again, not just a rumble! I am excited about listening to music again. Thanks for creating such a high quality product. I plan on ordering another one soon!
Thanks again,
Dave W.

top
| | |
| --- | --- |
| Reviewer: | Rafal R. (NJ) |
| Product: | DS1500 |
Hello , everything arrived in perfect shaped , and i just finished the sub "project".Its all finished with a high gloss white. It came out realy nice and sound quality is really good .I am a musician and i often go to the live shows and this is the bass i like ,powerfull,fast and accurate.Very similiar to the live stage bass.
The entire eq process is handled by a ezset eq in my harman/kardon avr 745 receiver , but since Ihave this option built-in in subwoofer i wanted give it a try and set it up manualy.All i have is one page of plate amp manual.There is a indication that there is a additional note about the sub eq setup ,but i dont have it.Would you please send it or link to me?I couldnt find it on a website.
Best regards
Rafal R.
From Rythmik: For phase alignment, phase1.html is a good page to start with. It combines theory with practical examples. In terms of PEQ adjustment method, the best approach is first read through the charts related to PEQ controls in amplifier_control.html . Second, use a CD with warble tones to write down SPL meter reading of each frequency. The goal is the reduce the most severe room mode response peak, not to boost response nulls. Third, adjust the frequency control on PEQ to match the peak frequency that you would like to reduce and use the bandwith control and level control to get the best results by repeating the reading again. One will need 2 or 3 iterations before got the best results.


top
| | |
| --- | --- |
| Reviewer: | John B. |
| Product: | GR SW12-4 servo CI kit |
Images:
Sub-1.jpg: finished sub. MDF box, finished with Birdseye maple veneer and solid teak top and legs
Sub-2.jpg: here you can see the inner box before it was glued. The amp is also boxed in seperately
Sub-3.jpg: Finished Inner box - 1/2" MDF sides with 3/4" MDF top/bottom/supports
Sub-4.jpg: 1/2" MDF spacers and outer 3/4" MFD box being buit
Sub-5.jpg: Air space betwen boxes full of sand, ready for 3/4" MDF top to be glued on
Sub-6.jpg: Finished sub, rear view
Sub-7.jpg: Another view of the finished sub
Hi Brian & Danny - Happy New Year!
Well, I finished my 12" Rythmik sub with the GR driver (GR SW-12-4 kit with A370PEQ servo amp) and I wanted to share a few pictures of it with you. I combined the down-firing design from your web site Brian, with the "sand-box" idea from your site Danny. I am very pleased with the result.
I hooked it up a couple of nights ago and had a heck of a time getting all of the settings in my Denon 4308 receiver correct so that the sub was enabled. But once I got past that it worked fine. I still have more tweaking to do on the settings, but the sound is amazing. Music sounds great and last night I watched my first movie with it. The movie started out with a thunderstorm and I almost jumped out of my chair! (I obviously have not owned a sub before). And that is with the level set way down!
Thanks again. I love it.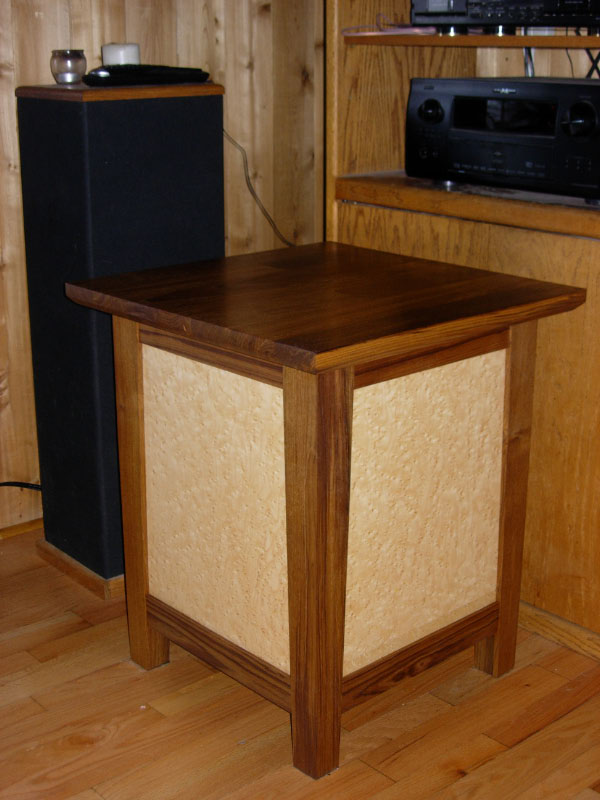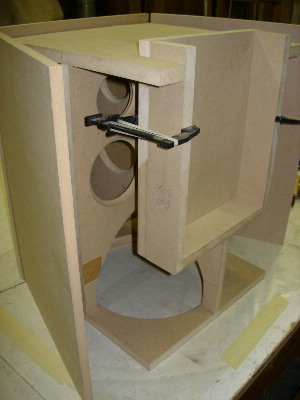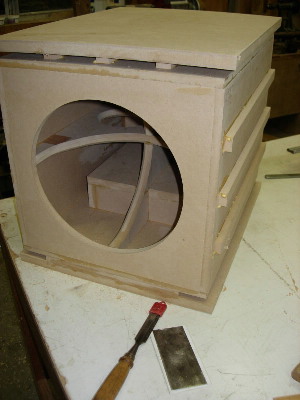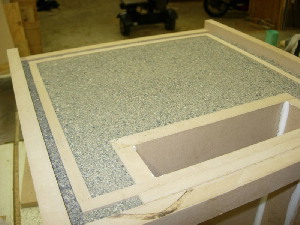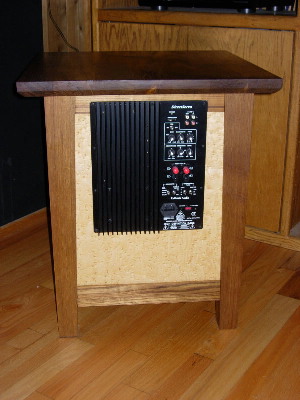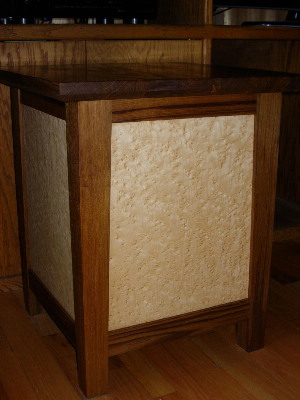 | | |
| --- | --- |
| Reviewer: | Pravin M. (India) |
| Product: | DS1500 servo CI kit |
Hello Brian,
It's been a month I was building the subwoofer with DS1500Ci kit. Finally the product is ready. Attaching the pics of the same.
I got lacquer finish done with white paint. Do check the attached pics.

Here is my quick review of the DS1500CI kit.
I have pair of magnepans planer speaker driven by Onkyo Stereo amp 8255. With maggies bass response is not realistic. That's when I started thinking of subwoofer. My idea was to build something that has best response at sub 80Hz.
Choice of DS1500Ci was obvious. Moreover there was praise to servo driven amps. I finished my build of DS1500Ci kit in india.
First impression of sound quality is WoW! I play guitar/bass and keyboard. Sound is realistic with this sub. I enjoy lot of slow rock, instrumental and dance tracks.
I am using crossover of 80Hz for maggies, with high damping and 28Hz extension. I found PEQ setting for the amp to be very useful. we have houses with lime coating in india and they echo a lot.
Ran couple of audio tracks and sound was breathtaking.
Thanks a lot Brian for this wonderful product.
Regards
Pravin
Project manager
ST Microelectronics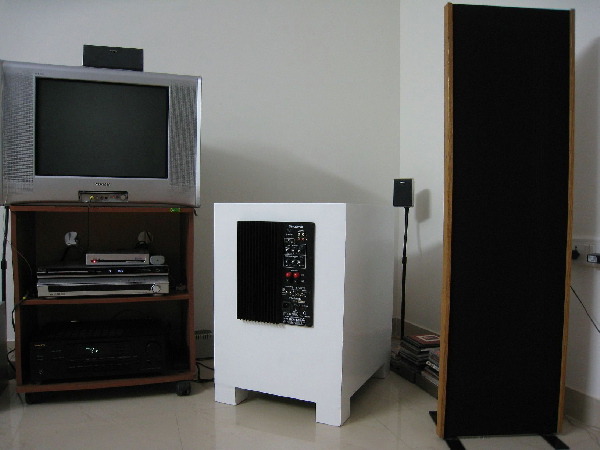 top
| | |
| --- | --- |
| Reviewer: | Jeff A. |
| Product: | DS1500 servo CI kit |
Brian:
Thanks so much for your dedication to grat music and HT. I built the 15" kit with the p 370 amp about a year ago and couldn't be happier! I have a very large and open HT room on the 2nd floor of my house, and the sub is awesome. I will eventually go to two subs for obvious benefits, but this sub really kicks butt all by itself. I've owned Paradigm, Velodyne, M&K and Sunfire before, and I feel your sub has the BEST value and BEST sound of anything I've owned. The output of this sub is prodigious, controlled, musical and clean. I used 3 layers of 3/4" mdf for the front and rear baffles, and 2 layers of 1" mdf for the top, bottom and sides, with apprppriate bracing. My room is appx. 32' long by 22' wide with standard 8'ceilings (very large fo a standard HT). I had used 2 custom built 12" subs with 240W plate amps each. The sound was good before but now it is far better. Thanks for a great, well-thought out product. I would recommend you to my friends without hesitation.
Thanks,
Jeff A.

top
| | |
| --- | --- |
| Reviewer: | Dan |
| Product: | Two DS1500 servo CI |
Brian I posted my build thread for 2 DS1500's on the hometheater shack site if you would like to view it. I took many pictures. The URL is below.
http://www.hometheatershack.com/forums/diy-subwoofers-sealed-ported/17646-rythmik-15-sealed-sub-build-two-them.html

top
| | |
| --- | --- |
| Reviewer: | Virgil J (TX) |
| Product: | DS12 servo CI |
Brian,
Here are the pics I promised. Let me know if you need anything else. Glad to help you out, your subs are killer (and your service)!
Thanks,
Virgil J.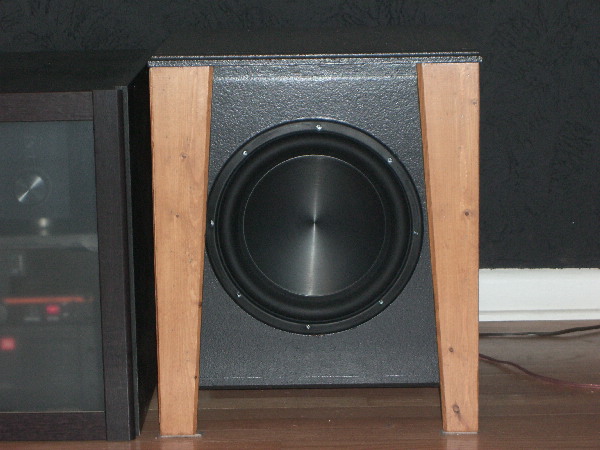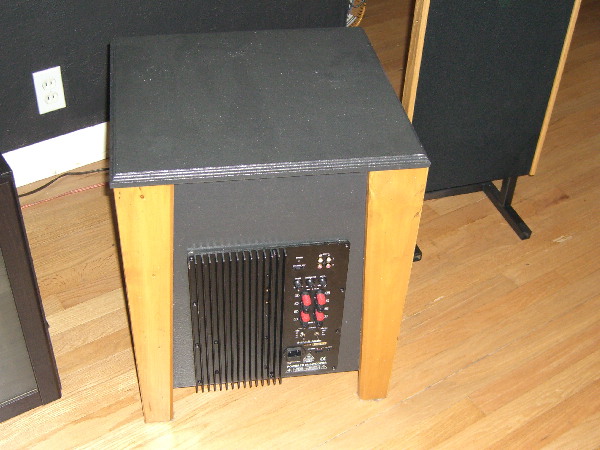 top
| | |
| --- | --- |
| Reviewer: | Steve |
| Product: | DS1500 servo CI |
I think you have a great combination here, this is the best subwoofer I've ever owned. I've told my friends to buy one and I'll build the box for them.
Wasn't impressed at first just using the left in, so I got a Y cable and man I'm blown away.
Sorry about the picture quality, I used my cell phone.
-Steve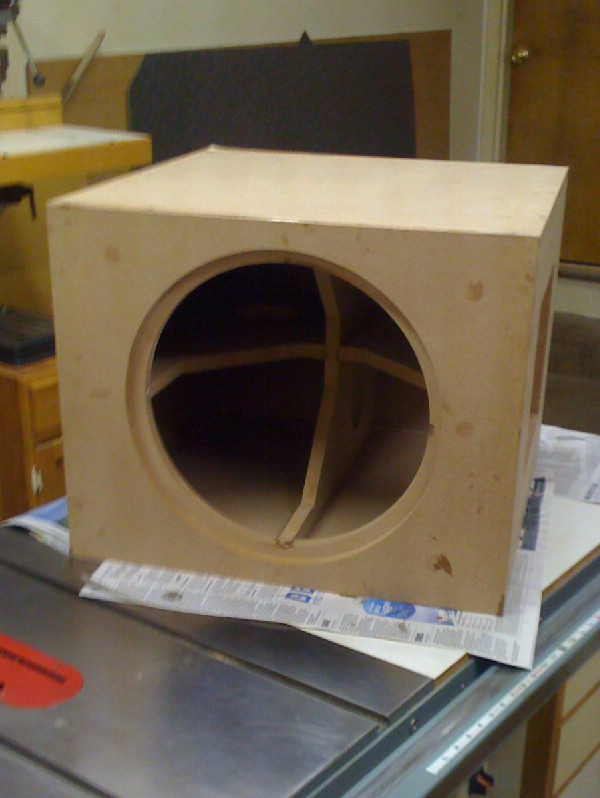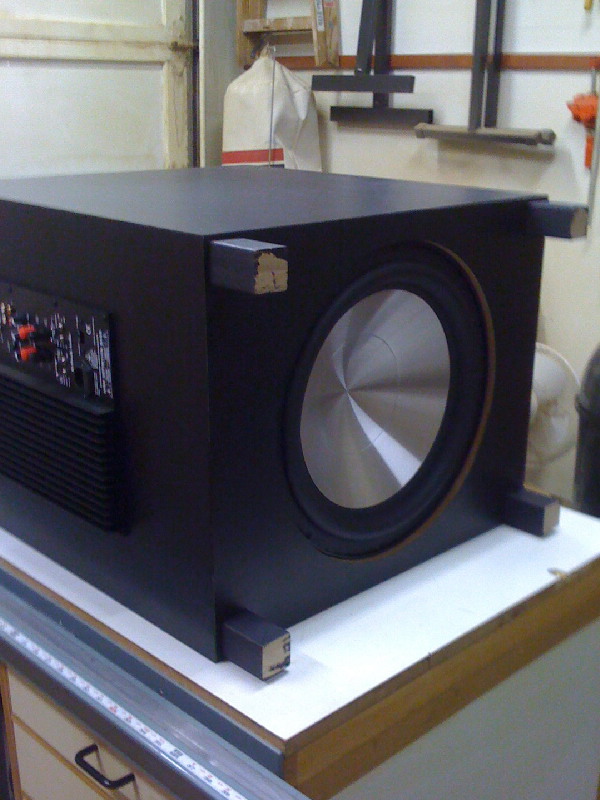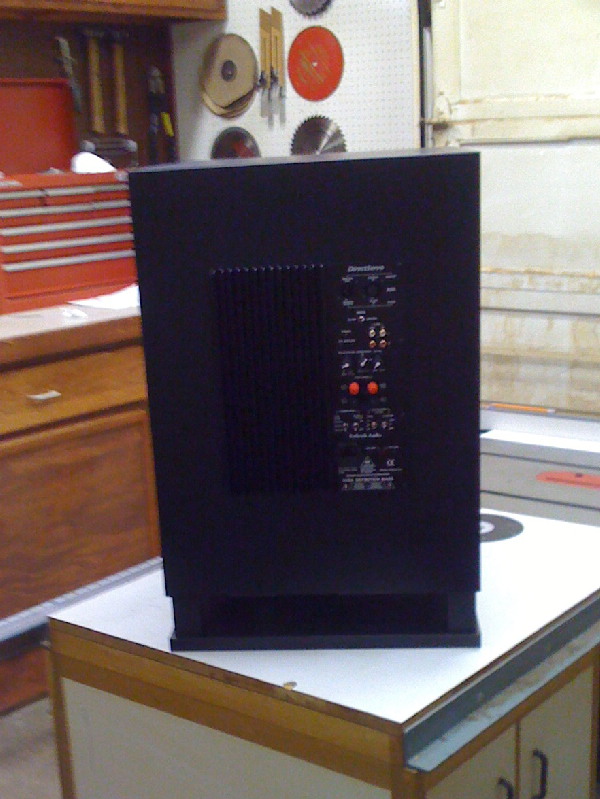 top
| | |
| --- | --- |
| Reviewer: | Parminder R. (UK) |
| Product: | DS15 servo kit |
Hi, i just thought i'd send some pictures in of my completed project, i've been meaning to send this e-mail, for like, the past 4 maybe 5 months lol...anyway i bought the DS15 kit i think around this time last year. I was doing a A Level Product Design Course in the UK as a Year 13 project(2nd year of A levels, the year before University :D) . I knew i could keep the subwoofer for myself once i'd done making it so i took the plunge and forked out a bit more than you'd usually pay for a subwoofer, on a student budget anyway :P
I'm really pleased with the DS15, actually really quiet stunned how good it is, some of the most respected lecturers in the UK teach at my institute and they're very pleased, i also scored 102 out 105 possible points on the course which of course im really pleased with. Anyway, thanks for making a awesome product and i hope to business in the future!
Here are some pics of the completed project..i also have a portfolio full to the brim of every detail of the design, actually the entire process right from the beginning on how i went about, eventually, building a subwoofer and would be more than happy to share it with you if you wanted.
Regards,
-Parminder R.,
Bradford, UK.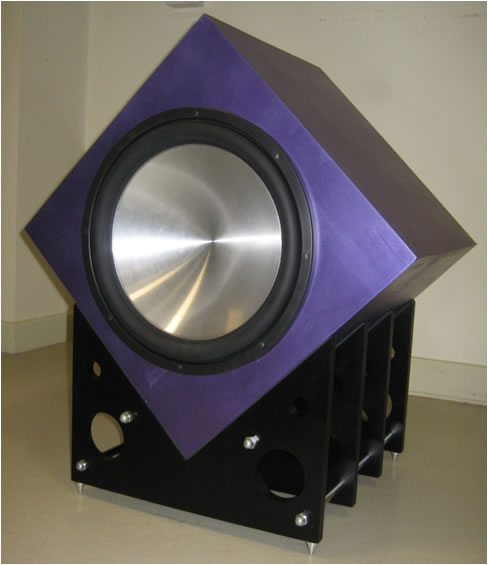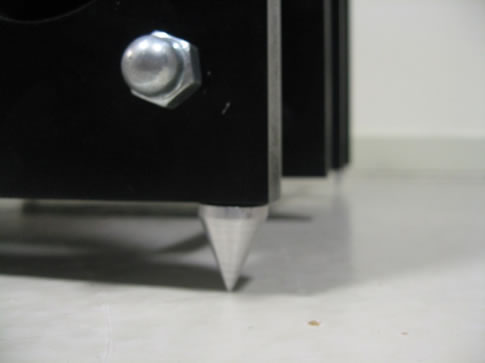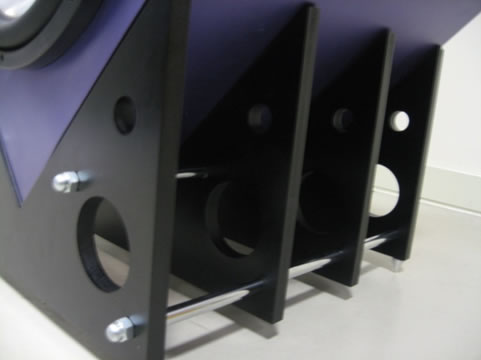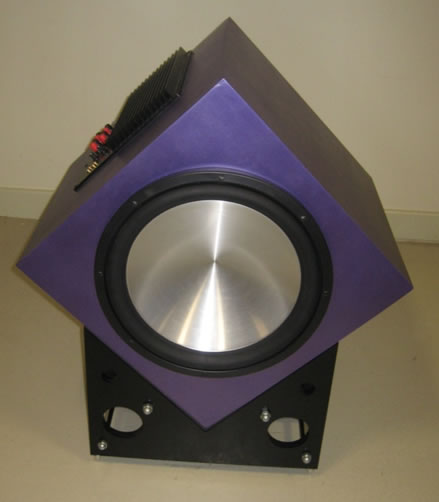 top
| | |
| --- | --- |
| Reviewer: | Terry C. (TX) |
| Product: | DS15 servo kit |
Brian,
Here is the rest of the pictures.The sub cabinet has been fitted with "custom hand made billet aluminum wheel pants" to hide the swivel casters underneath the cabinet.This box is very thick it weighs about 175 lbs without the driver in it. I used a 1 1/2 " round over bit on the corners as to give this thing a smooth feel.
The paint is a satin lacquer Sherwin Williams Product $17.00 a gallon. I lay-ed the primer to this thing it has the look and feel of a black porcelain finish. Every one who sees it says it looks like it is made out of metal.The box has all the proper structural stiffeners[white oak] throughout. There is no nails or screws in any of my speaker enclosures that I have ever made.The process that I have developed is quite simple,effective,economical and strong to fabricate these structures out of The wood work and paint work was done by me.The only thing bought was raw materials and the parts that came from you. Fabrication and painting has been a passion of mine since I was 15 --- 36 some odd years now.
"The Loud Speaker is a fine musical instrument. The enclosure should have the fit and finish that is second to none!"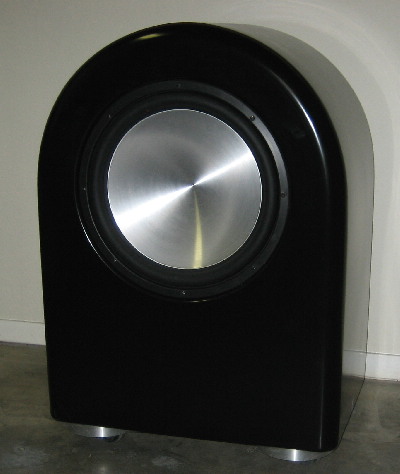 | | |
| --- | --- |
| Reviewer: | Leo R. (Canada) |
| Product: | SW12-4 servo kit |
Hi Guys,
I just had to stop at this point to let you know just how pleased I am with the sub. I have never had a sub that was this easy to dial in. The controls are almost intuitive. I must add that I have no test instruments, but simply by using a repeated pulse on an acoustic bass, it was childs play to set the levels. I then listened for crossover level (easy to hear when the string sound is not thickened) and then phase (for fullness and weight). A quick fine tune all around and that
was settled.
Once that was set, on acoustic piano I had slightly too much body at the crossover area. A touch on the PEQ cured this and gave me a rich full sound stage.
I was expecting more bass detail, and weight. What I was not expecting (in addition to former) was the extra openness, clarity and liveliness that now enriches the playback It has also passed my final and most difficult test. It sound 'right" from another room. The balance is correct.
Thanks for an awesome product at a killer price. With a market unembarrassed by $8,000.00 speaker cables and $20,000 power amps, what your subwoofer accomplishes is amazing, even before your consider the price point. If you add in the DIY factor it becomes more so.
All the best and thank you for a great product. Now I gotta get back and listen to more music and try to wipe the smile off my face :-)

ps. When I initially set up the sub, the sound was plummy, thick and could not be integrated. I discovered that i was
using way to much stuffing. I kept reducing it until it sounded much quicker and tighter. Is there an exact amount for the 1.5/ cf enclosure. It was certainly a bit of trial and error?
Reply from Rythmik: First, we don't recommend to put in too much polyfill stuffing in the enclosure as it will tilt the balance of sound. Second, the proper break-in time varies from one driver to another. It may take up to 2 weeks for the subwoofers to fully break-in. So by the time you change the stuffing, you may also hear improvement from break-in. In short, it is the combination of both less stuffing and break-in time that gave you the perceived improvement.

top
| | |
| --- | --- |
| Reviewer: | Kevin S. (USA) |
| Product: | Four DS1500 -A370XLR servo kits in master/slave connections |
With only one kit:
Brian:
I am up and running after swapping drivers! I DO have to turn the level up fairly high(1 o'clock or so) to match levels with what I was using before(SVS PB-12 Ultra), but the sound is much better. I think I understand what you mean by "clean fast bass"--the Rythmik does its job, with no fuss, while the SVS seems to have much more "other" noise. Maybe that is air/port noise, or just the effects of distortion or ??? I am not sure, but the Rythmik just sounds cleaner--no other way to describe it. I'll do some REW graphs later. Also, not to tout my woodworking skills, but my enclosure is much more solid, and completely stable and resonance free. You can barely tell its making bass when you put your hand on it, but it is!
With all four:
All four subs are up and running. My brother, his wife, and all six of our kids are down in the theater as I type this enjoying Master and Commander in Blu-ray. They are literally blown away. I do appreciate all you have done. I ran a quick REW sweep and I have a nice graph all the way to10 Hz with my room gain.

top
| | |
| --- | --- |
| Reviewer: | Sahin Derya (Istanbul, Turkey) |
| Product: | DS15 Direct servo kit |
Dear Brian,
As a professional speaker builder of many types, I must say your servo kit takes my breath away. Speed, articulation and incredible accuracy of this product is second to none in its own price range, and maybe 3 times the price category. Everybody shares this thoughts after being in the presence of this kit. I must congratulate you, and encourage you for further development.
Kind regards,
Sahin Derya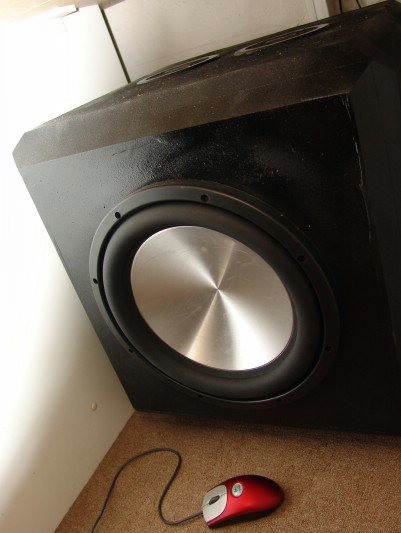 top
| | |
| --- | --- |
| Reviewer: | Martin J.(Sweden) |
| Product: | DS1500 sealed Direct Servo kits |
....... I have two of the subs playing at the time and I'm extremely pleased so far, my BK XLS200's are left far behind in EVERY aspect. I will send you some photos when they have decent finish.


top
| | |
| --- | --- |
| Reviewer: | Jouni A. (Finland) |
| Product: | DS12CV-sealed Direct servo kit |
I am really glad that I ordered a kit from you. You were right when you called these subs remarkable. They really are!

I couldn't be more satisfied with the outcome. The bass is all I have ever wanted: it is clean, tight and controlled, goes deep with authority and fits perfectly to my main speakers. It's ability to separate bass drum hits from other bass content and hit them hard is just amazing. This sub sounds very good even at lower listening levels. The sound is just outstanding at any price class, but I paid for the whole project just a bit over 500 euros. And I can assure you: it is ridiculously small amount of money for this kind of sub!

Your customer support and service has been incredible. I wish there were more companies like Rythmik Audio.

top
| | |
| --- | --- |
| Reviewer: | Adam S. (Newark CA ) |
| Product: | DS12-sealed Direct servo kit |
I wanted to thank you for such a great product and service. I completed the sub over last week and I am so completely thrilled. I was always disappointed with my Paradigm (band-pass?) sub for well over a decade. Either I was not using it or I had it turned so low so I would not be reminded of its presence with puffy thumpy bass bursts. This DS12 unit has really rejuvenated my interest in listening to my setup a lot more. I am amazed at the low bass in music that I had never heard before. Even in pieces with no bass drum electric or acoustic bass it fills in the ambience in the music, breath, body feel. I realize my JM Labs Cobalt 15¡¦s were never that great at bass but I finally feel satisfied like I am hearing a continuum in the music without that feeling that the sub is finally kicking in at the low end. I'm loving the fullness at lower to moderate volumes that I never felt before.
The unit shipped so fast, you provided me with prompt e-mail replies on my enclosure questions. You provide great service and great product.

top
| | |
| --- | --- |
| Reviewer: | Richard M. (UK) |
| Product: | DS12-sealed Direct servo kit |
The complete blog is in http://www.btinternet.com/~richard.d.miles/DS12s/DS12s.html (Includes more photos)
My DS12 kit arrived yesterday. I just wanted to thank you for making such high quality components available for DIY.
I really enjoyed building the enclosure for my sub. It wasn't particularly time consuming or difficult following our plans, was inexpensive and I am enormously pleased with the end result.
Most importantly, the performance of the sub has exceeded my expectations. The integration with my front speakers is perfect - I cannot tell the difference between the sub being there or not, apart from the obvious increase in low frequency energy when present in the source material. I previously thought that my Mission E83 fronts were full-range and I've measured their response down to 36Hz in room. Up to this point I've always listened to music in stereo without a sub. With the sub crossed over at 80Hz the improvement in the depth and clarity of the bass in startling, the stereo image is clearer and the extension of the sub is adding a lot of atmosphere to the sound. My Audiolab (ex-TAG McLaren Audio) processor and power amp are fast paced, I was amazed how different all my music sounded when I got it but the sub is not being left behind at all - quite the opposite in fact!
I've run some sweeps on the sub and the 3dB point is 12.5Hz, which is amazing considering the physical size of the driver and the 2 cu ft enclosure. For me this is the unique selling point of your product. Other subs I considered didn't have anything like this level of extension, and/or were physically much larger, which ruled them out of the running with my domestic situation. It also seems that you aren't trading anything in terms of sound pressure levels either and I can honestly say that I don't need any more SPL in my 16'x16'x9' room. I've never felt bass like it.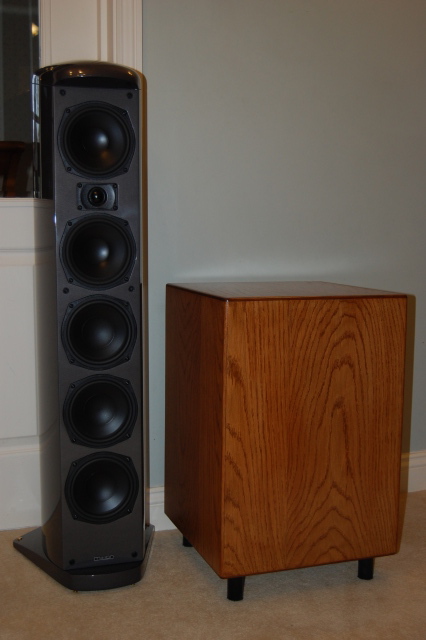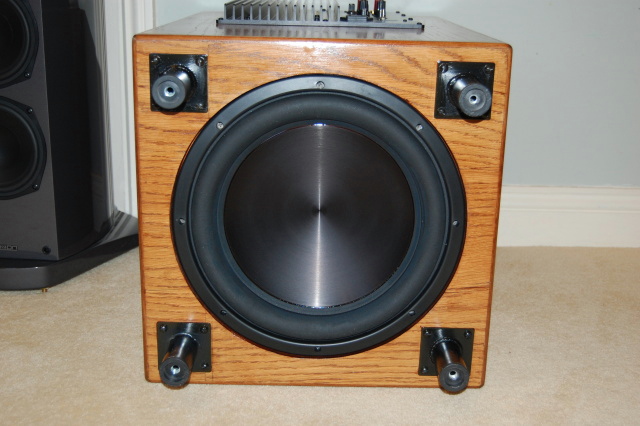 top
| | |
| --- | --- |
| Reviewer: | Matt S |
| Product: | DS12-sealed Direct servo kit |
[I] just wanted to follow up to let you know that I finally finished my DS12 and it sounds absolutely amazing. It is such an improvement over my Monitor Audio FB210 I can't even believe it, and that sub cost $1000 new! The DS12 hits low bass notes with such authority and clarity that it has actually steered me towards music with more bass, just so I can listen to it and be amazed. I've given a couple of endorsements for Rythmik Audio on hometheaterforum.com, as applicable, and I will continue to do so whenever people want to embark on a DIY sub. Also your company's customer service was very helpful. I thank you for a good experience. Keep up the good work!

top
| | |
| --- | --- |
| Reviewer: | Cam L |
| Product: | DS12-sealed Direct servo kit |
I received the speaker and plate amp. While I was waiting for them to arrive, I built a baltic birch plywood 2 ft3 sealed enclosure from the plan included on your website. The only change I made was to use Lee Valley chrome cabinet legs. A few coats of high gloss paint to match, a piece of glass on top and I have a nice end table. So it blends in and nicely augments the low end dimension of my music system. I definitely feel like I received an excellent product, a great deal.

top
| | |
| --- | --- |
| Reviewer: | Zack P. |
| Product: | DS15-sealed Direct servo kit |
The blog is in http://projectcube2007.blogspot.com/
From the Blog… I don't own any professional audio testing equipment but I wish I did: I'd LOVE to see this baby's numbers - her maiden voyage saw my 3 tests I put all my audio components through - Diva Plavalaguna from The Fifth Element (if you test speakers, you know the scene i mean), Massive Attack's Angel, and Thomas Bangalter's Rectum.
I did a side by side with 3 configurations from the T773 - the cross set to 200hz, 80hz, and 40hz with the fronts and rears set to small in order to hear the bass channeling. The only real competition to the sub however is the fronts so those were the ones I really concentrated on.
I should also point out that the Rythmik Audio AS370 12dB/Octave Amplifier I purchased has customizable settings for a low pass filter and damping factor - VERY handy when fighting cone excursion and clipping. Through my tests i set my amplifier on the DS-15 to a 14hz low pass filter and a high damping factor. The low pass filter acts exactly how one would expect it to work and the damping factor steepens the curve of filtration on the low end. While I would normally want something less harsh, on a 15" bass driver you're going to lose quality quicker than on a 4" mid range.
200hz Cross - Stereo - Playing Massive Attack's Angel provides a good indication of the speakers power handling/filtering/as well as the CD players discrete processing (the track features simultaneous, sharp, tweeter and woofer signal), since none of that is on trial here however, i concentrated on the balance between the sub and full range fronts - I wanted to see how the woofer handled the low end next to the high and mid range that i'm so used to hearing on the Studio-100s.
Though i love my fronts i never realized they rolled off like that - haha. The DS-15 handled itself beautifully, no signs cone excursion. The driver appeared to be a little over driven on the part of the crossover freq, so i tuned it down.
80hz Cross - Stereo - My fronts tend to lose a lil' bit of their bite at freqs around 40hz. The 80hz mark saw everything i dreamed of in a sub - The bass was smooth and clean and after adjusting the phase on the amplifier one couldn't tell the low end on the fronts from the bass. The mid and high end popped over the sub and sounded excellent - complete coverage of the spectrum.
40hz Cross - Stereo - This is really where i want to keep the sub, using the fronts (while still set to 'small' on the T773) full range and keeping the sub for the freqs unheard on the fronts. Where as i expected separation issues and a distorted 40 - 200hz range with the cross tuned so low, i actually received a velvety smooth low end from music that i never knew had that kind of bass. The music sounded rounder, complete, and more dynamic - listening to the full range on the fronts still sounds GREAT but the 'real kick you in the stomach' bass from the DS-15 went perfectly with it. I gotta admit, I'm a puritan and want to stay off the sub for CD playback but I don't think I'm going to be able to...
Thanks for making a great kit!! I had a blast building it and have been nothing but blown away by the quality…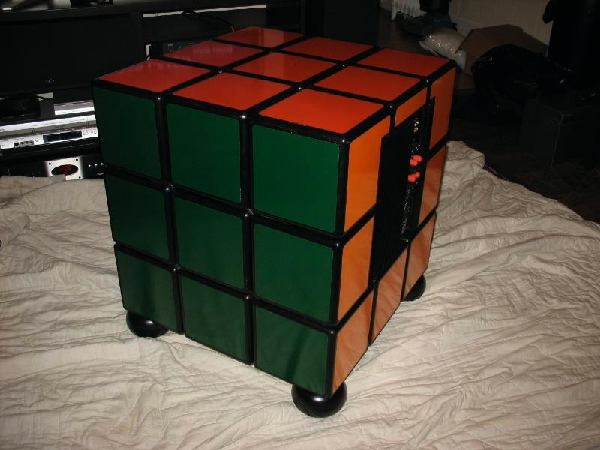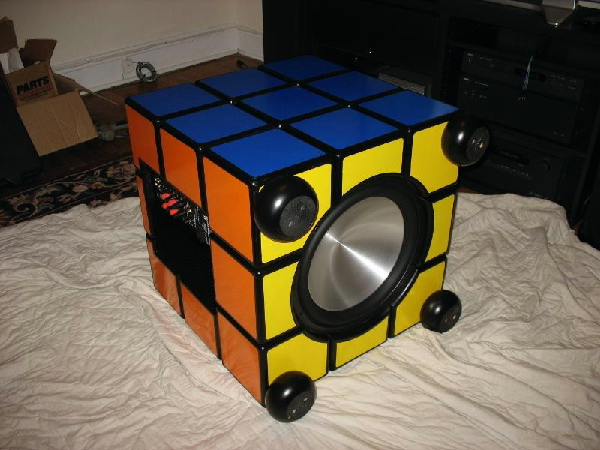 top
| | |
| --- | --- |
| Reviewer: | Scott K (Chandler, AZ) |
| Product: | DS15-sealed Direct servo kit |
Here are some pictures of the box that took me over a month to build. It looks just like an end table and fools everybody. That is until I turn on the music. I have owned to other subs. One was a 10 inch and the
other was a 15 inch . Both were made by Defintive tech. This sub is so very tight and firm. I would of never thought that I would be able to own a sub that hits hard and very clean and I will never ever feel like I am listening to a bass drum from a marching band. The bass is so real you feel like you are sitting right next to the real thing. Thanks so much for you help answering my questions on the phone.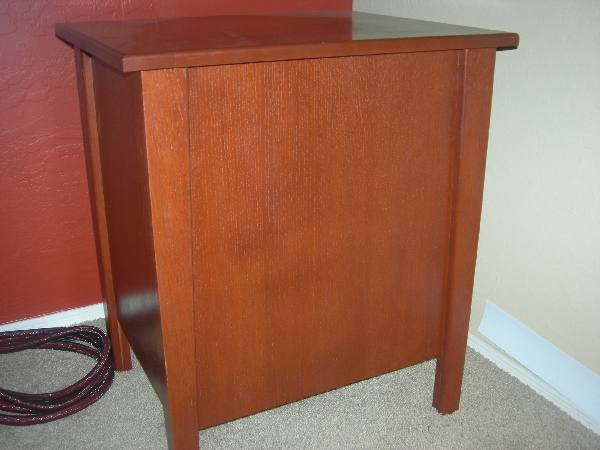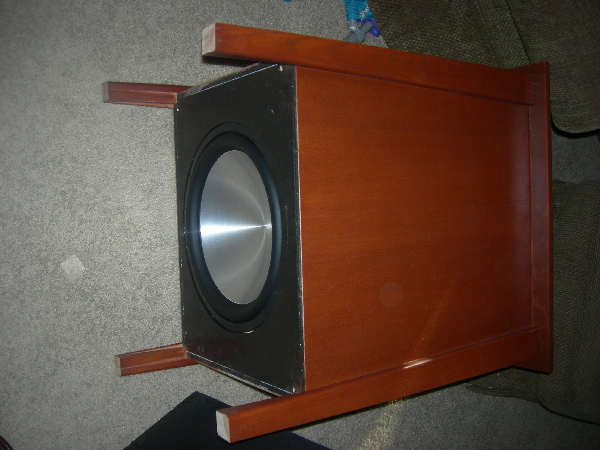 top
| | |
| --- | --- |
| Reviewer: | Geff L. (excerpt from AVS forum) |
| Product: | DS12-sealed Direct servo kit |
As much as I like the price to performance ratio of SVS subs, I believe you made a good choice over the SB12's. I was lucky enough to listen to both the SB12 and the 12" Rythmik kit in the same room, (approx 1800ft³ room closed) & the choice was rather easy to make in both our opinions. The owner sold his SB12 about a month later. Certainly not saying this is the decision everyone would make if they had both subs in their room at the same time & was able to do side by side measuring and listening comparisons for a good period of time.

top
| | |
| --- | --- |
| Customer: | John C (owner Black Sand Cable) |
| Product: | DS12-sealed Direct servo kit |
I have been a bass nut for many years and as a result have gone through a variety of subs looking for the perfect sub with music and something that would still work in an HT application. After trying various subs from Paradigm, REL, SVS, Axiom, HSU, Velodyne and a host of others I was still not completely happy. The Velodyne DD-18 was hands down the best of the bunch but I had a hard time justifying it's cost as it still wasn't exactly what I wanted with music. A friend recommended I contact Brian from Rythmik and after corresponding with Brian for a week or so I took the plunge based on his advice and ordered two DS-12 kits and I'm glad I did. The DS-12 is the fastest and tightest sub I have owned to date. A musical bass note sounds like a note not just a boom or a deep rumble. With two of them working together the results are jaw dropping. The pair are as good as the Velodyne DD-18 I had and cost considerably less. If you want a sub (or subs) that can actually play a musical bass note and will still provide some solid rumble for HT, look no further then Rythmik Audio.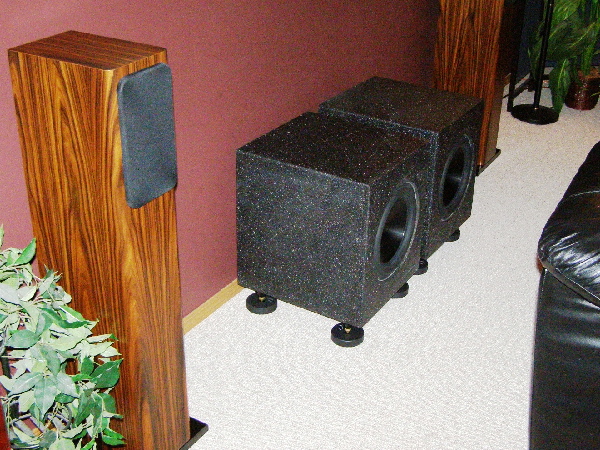 top
| | |
| --- | --- |
| Customer: | Eli B |
| Product: | DS12-sealed Direct servo kit |
After building a nice strong sealed box (1 1/2" thick MDF, internally cross braced) and installing your DS12 woofer and amp set, I have been stunned at the output and quality of the sound. Thank you very much for putting out such a great product at such a good price.

top
| | |
| --- | --- |
| Customer: | Rick |
| Product: | DS12CV-sealed Direct servo kit |
I spent some more time with Audyssey last night and it's really growing on me. I also spent an hour or so listening in 2 channel with only the Rythmik's active and I have to say they lived up to my expectations and then some.
In the stereo configuration that I have them in they actually seem to image better than the IB alone did and they are just as articulate. This is not a fair comparison but other than the IB, the only other decent sub that I owned was the Paradigm Seismic 12 and it was not in a good room or EQ'd and I recall it seemed to "shake the house" more than the Rythmiks do, but I never got it to sound as good with music as this set up does.
The Audyssey is certainly doing its' job and the Rythmiks are definitely up to the task.
..... These are very articulate subs. Super tight, no bloat and very "natural" sounding which is really noticeable with acoustic bass, piano and the lower register of male voices.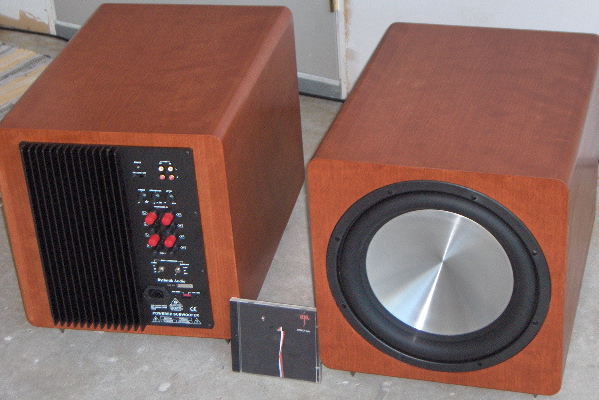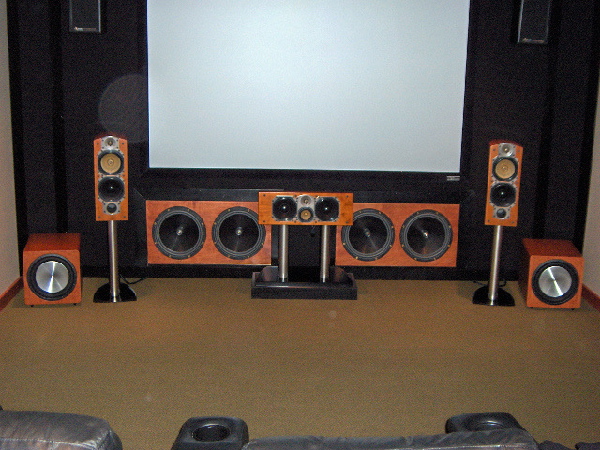 top
| | |
| --- | --- |
| Customer: | Eric H. and Jerrod H. |
| Product: | DS15-sealed Direct servo kit |
Well, the open baffle speakers that I'm going to build will need to be crossed over at 80 Hz, and I thought that dual 12"s in bass bins under each speaker would be a better set-up. Also, I have some room modes, and I'm hoping that two subs in different locations will help with this.
I thought that you might like to read the impressions from the person that bought my DS15. He is using it (for now) for sub-30 Hz content with his open baffle speakers. Line array of 15" bass drivers, 15" coaxial midrange, and a horn loaded compression tweeter. He likes your sub! I also included a pic with my raw DS15 next to his speakers……………………….
"Got the "little" sub up and running early this morning. This is a really nice subwoofer system. As articulate and clean as any "big" sub system I've heard. When replacing the big array setup it gives up a little resolution through the upper end of the curve, but goes down deeper for sure. Definition down low is scary. In a normal listening room a pair could replace the array's in a smaller setup and sound very, very nice. I gave them a workout with Pomp & Pipes, a pipe organ sampler with deeeeeep material. The excursion can get pretty crazy,pretty fast, but the servo kept things in check, where I think an open loop system would have given it up. Augmenting the woofer array is a pretty wild setup. You hate to cut the array off any, because it is so capable at that range. Running the Rythmik crossover as low as possible is still a little high, but you can add a just a little pop below 25Hz. A single works, two would be stellar. You are going to really like the dual 12" setup. When going for a low tuned, heavy coned driver I don't think you could pull off a seamless transition to an open baffle system without the servo loop. You normally see an open baffle system augmented by a fairly light coned driver, because of their inherent transient ability. The characteristics of a open baffle sound, lean toward a very "fast" presentation, which to me means the driver can stop and start very quickly. This makes the speaker very clean and articulate. The Rythmik sub possesses the same traits, so you are heading in the right direction with your setup. I've been thinking about your configuration and I think I'd build it with the side firing drivers. I'd do a mirrored pair and by swapping speakers side to side, you'd have different setup options. Also because of the length of the low frequency sound waves, the radiation pattern resembles a rock dropped into water when viewed from the top. The wave propagation is evenly distributed at the subwoofer frequencies. Got the new kits ordered yet?"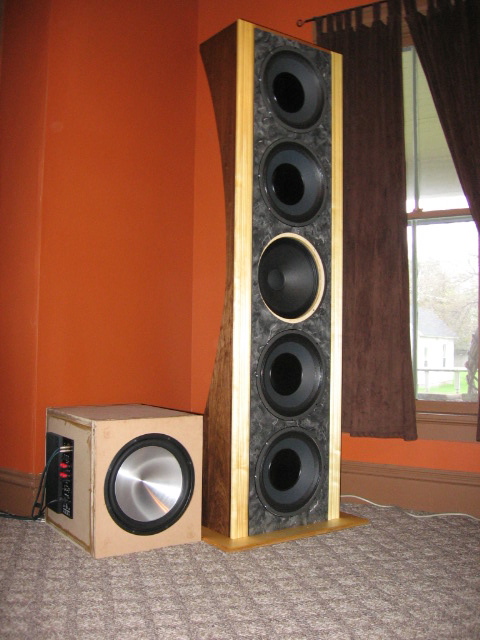 top
| | |
| --- | --- |
| Customer: | Dennis J. |
| Product: | DS15-sealed Direct servo kit |
I am just about done with my Rythmik 15" and thought I would send you a picture. I still have to finish the grill but other than that it is done and sounds fantastic. I also have a Paradigm Servo 15 V1 sub which you can see sitting next to the DS15 in one of the pics. From the standpoint of excursion, the rythmik has about 3-4 mm more excursion and similar power (370 vs 400 watts). The paradigm is one of the best sounding and most musical subs I have ever heard but is somewhat limited in output because of the very aggressive limiter they put in this version. From an output perspective the Rythmik plays at least 3-5 db louder. I haven't really explored the limits of Rythmik yet but hope to in the next few days. The Rythmik sounds slightly different but is every bit as tight and refined as the Paradigm ... and of course 1/4 the price (not counting the cabinet)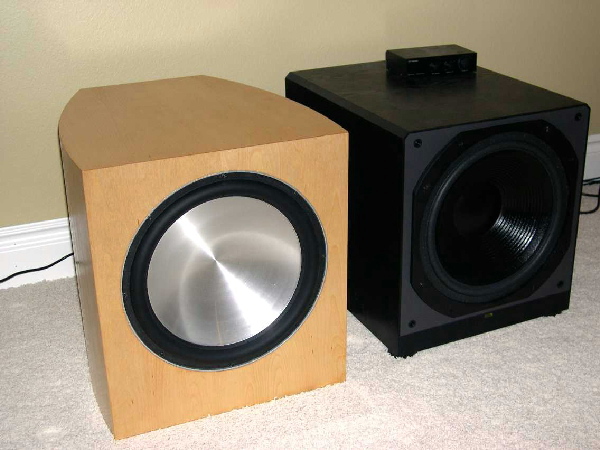 top
| | |
| --- | --- |
| Customer: | Rob (from www.avsforum.com) |
| Product: | DS12-sealed Direct servo kit |
In my room i've had a total of 4 subwoofers. 3 were sealed DIY projects, and the 4th is a small Velodyne dps-10. Of all 3 of my sealed DIY projects (Avalanche 15, Tumult 15d2, Rythmik servo ds12tc) the Rythmik is the indisputable sound quality champ.
You will be pleasantly surprised with the capabilities of the Rythmik kit.

top
| | |
| --- | --- |
| Customer: | Eric H. |
| Product: | DS15-sealed Direct servo kit |
"The sub sounds great, goes DEEP like my PB12/Plus2 did, but is much more defined and musical."
I just wanted to let you know that the sub has really opened up since our last correspondence. Actually, one afternoon of fairly robust music made the difference. I now have plenty of headroom at -5 on the sub pre-out. The sub sounds great, goes DEEP like my PB12/Plus2 did, but is much more defined and musical. It doesn't have the SPL of the twin SVS, but it has more than enough for me. And this while I haven't even started to eq it. Thanks for your help, and thanks for making servo technology available to us DIYers. (....You're helping people get very high quality bass in their homes for a price that they can justify (get past the wife!)).

top
| | |
| --- | --- |
| Customer: | Ian |
| Product: | DS12CV -sealed Direct servo kit |
"I put on a piece of music, sat in my listening position, and WOW! It was a revelation. My first impression was "is the sub on?," because the imaging was so incredibly improved over the prior sub."

When I first decided that I wanted to take the plunge into high end audio, I read reviews, but being always a skeptic (and realizing that everyone has different preferences) I went and auditioned as well, and fell in love with the sound of Martin Logans. I bought a used pair of Quest Zs from a friend who was buying the new $10k summits, and was instantly enthralled. For Jazz and vocals, I had heard nothing like them. A wonderful, detailed, ethereal sound that drew me into the music. As I played other types of music, however, rock/rap/pop, I perceived a lacking in the bass/midbass region being covered by the woofer. I decided to try to integrate a midbass array and a sub, in order to fill this perceived deficiency. Being on a budget, I decided to make the array myself. Having completed this, a friend loaned me a $500 12" sub he had lying around. The brand will go unmentioned, but it was of the standard commercial variety for that price point, and ported. I integrated the sub with the system and balanced the level to match the rest of the system...but it just sounded...wrong. Boomy, bloated, one note bass, it just didn't mate at all with the panels. I was hoping it was the sub, but was somewhat fearful that the line array I had built could be to blame as well.
Having read for over a year about the success people have had with the Rythmik subs in music systems, but always skeptical. I decided to build my own box, and give the kit a try. I was enthusiastic, but not expecting to be overwhelmed. I made the cabinet out of double thick 3/4" MDF, with a triple thick baffle, and then veneered it (first time veneering!) with cherry. I then stained it and coated it with polyurethane...it turned out pretty nicely I think. When the kit (the DS12-CV Servo kit) arrived a couple of days later, I took a moment to admire the build quality and amp...and then assembled the sub. I placed it next to my array (not ideal positioning perhaps...but I just wanted to hear it!) and attached it, with an 80Hz crossover point, set to the 14HZ/High Dampening settings.
I put on a piece of music, sat in my listening position, and WOW! It was a revelation. My first impression was "is the sub on?," because the imaging was so incredibly improved over the prior sub.
I looked over at the sub, and saw the cone moving...but there was no indication of any sound coming from it whatsoever. It matched beautifully with the sound staging and imaging of the panels (which is quite impressive.) Equally as well, it kept up perfectly with the finesse and detail from the panels, with none of the delayed resonance that I've heard from lesser subs in the past. I had a giant grin across my face, as I popped in CD after CD of ALL genres (even the ones I had said "well, martin logans just aren't good at playing this") and was amazed at the result. I had achieved what I had set out to, and much much more, and the key piece of that was the rythmik sub. My friend with the Summits came over to listen as well, and was equally as floored. The improvements were monumental. I've heard the Martin Logan subs, and the depth and descent are both great subs (that use servo technology as well) but I would be lying if I said that I thought they sounded any better than my rythmik...and they are at a much higher price point. I couldn't be happier with how this turned out, and I can very honestly say that I think my stereo now equals or bests many others that cost much much more. The upgrade bug that bites so often in this hobby is gone from me (unless it is to add another rythmik!) and I am enjoying my music collection more than ever!
On movies, at first, I was a little bit disappointed, because I was used to hearing big one note bass reverberate during a big bass hit. The more I listened, however, the more and more I appreciated what the sub was doing. It made the entire movie watching experience more engaging...as things just sounded more realistic. It's no longer a matter of listening to a movie to hear "oh listen to the sub on this part" as can be done with other "big" subs. It's WOW, this whole movie just sounds great. I've been spending a lot more time movie watching lately as well! "Chronicles of Riddick," one of my favorite action movies, has many places that sound much much better now, especially during parts where energy weapons are being fired, as there's an awesome sensation that I've never felt before, and I've watched this movie many times (including in the theater). The only way i could be happier with the sub is if I had 2 (which I will at some point in the future-the box is already built! "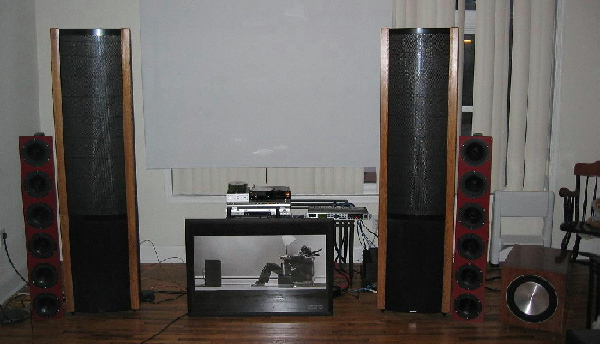 top
| | |
| --- | --- |
| Customer: | Dave G |
| Product: | DS12-sealed Direct servo kit |
Thanks for the note. See the attached photo's. I am very satisfied with the performance of your servo sub. It quite easily beat anything I have tried before. It easily reaches 20hz. in my room and with the Velodyne SMS-1 I can achieve a frequency response with-in less than +/- 3db from 20 to 80hz. I have never heard bass response this tight and tuneful before, you have a great product. I will probably be ordering another sub after the first of the year to re-do the upstairs home theater system. The room size is the same as down stairs but with a very high cathedral ceiling so I am thinking I will need the 15" driver at a minimum or (2) of the 12" drivers. Have a great Christmas.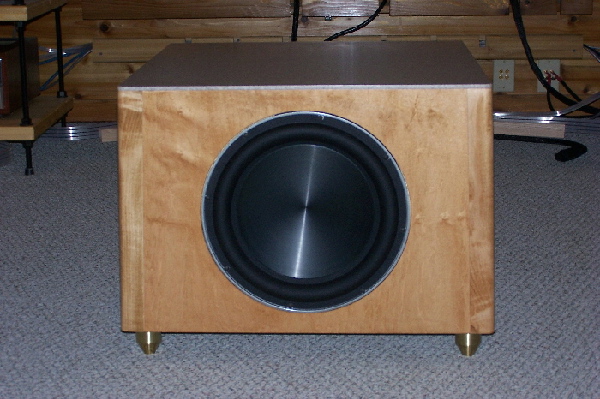 top
| | |
| --- | --- |
| Customer: | Pauly (excerpt from Audio Circle Forum) |
| Product: | DS12-sealed Direct servo kit |
I love my stereo pair of Rythmik DS12 subs. In the past I have built several ported subs but was never happy with the boominess of them. No matter how hard I tried to tune and place them properly. After listening to dozens of commercial subs at shops and friends houses, the Rythmik may be the most musical subs I have ever heard. Very fast, clean and tight, 118 lbs. each , the grills were originally 1.5" from the baffle and at higher volume the surround would hit them . So they were moved to be 2.25" from the baffle. I don't have 1000's of dollars to spend on subs ....but with these I feel like I have 1000's of dollars worth of subs. BTW, Brian Ding was a pleasure to deal with. He answered all of my emails promptly, shipping was fast, and they were packaged very well.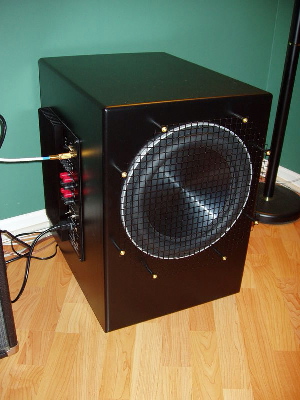 top
| | |
| --- | --- |
| Customer: | Randy G. |
| Product: | DS12-sealed Direct servo kit |
"regardless of whether it's rock, classical, country or anything else I throw at the signal.... it astounds me!"
Just wanted to drop a quick note and tell you how great this combo kit sounds! I finally got to really begin to give the sub a real workout @ 100+ db and I'm totally amazed by the clarity and definition of the notes I'm hearing. With nearly 7000 songs to play, It's impossible to listen to them all but regardless of whether it's rock, classical, country or anything else I throw at the signal.... it astounds me! I can't thank you enough for putting this product on the market!!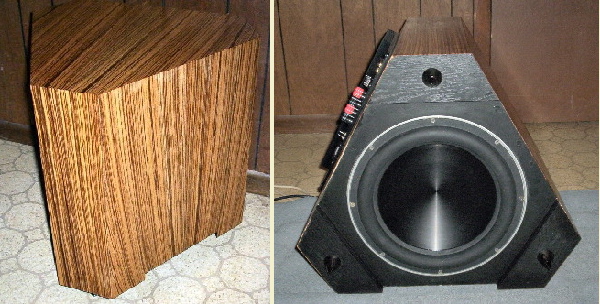 top
| | |
| --- | --- |
| Customer: | SpectralD (excerpt from AVS forum) |
| Product: | DS12-sealed Direct servo kit |
Rythmik/Velodyne 12" servo sub comparison
Measurements
Unfortunately, I don't have a good place to do outdoor measurements. I wanted to do max SPL testing, and initially I thought that since I was simply comparing 2 subs, in-room would suffice. If I did the tests with the subs in the same location, the room should affect each sub equally. I thought I could close-mic to measure THD and then use another mic to measure SPL at some distance. This sort of works, but it doesn't really tell the whole story. At frequencies above say 35Hz, The Velo produces virtually no harmonic distortion: the limiter engages before it will do so. I was worried about bottoming the Rythmik if I just ran high SPL sweeps using REW. What I decided to do was run some test sine waves at some frequencies of interest. I chose 20,40,60, and 70 Hz. Here are some representative measurements from one round of testing. These are in-room, 1 meter ground plane measurements. The mic was an ECM-8000 through a Presonus Firebox using Room EQ wizard and MATLAB code. Both subs were set at a floor/wall boundary, roughly at the midpoint of the wall. This was a location where I got reasonably flat response at the listening position. The HGS and Rythmik were both set to 20Hz extension; Rythmik was in high damping mode.
Rythmik -- high damping, 20Hz extension
70Hz 109dB 11.04%
60Hz 114dB 11.06%
40Hz 112dB 11.12%
20Hz 89dB 10.96% (results affected by room mode at 40hz)
Velo -- 20Hz high pass
70Hz 111dB 1.7%
60Hz 114dB 3%
40Hz 108dB 3%
20Hz 93dB 11% (results affected by room mode at 40hz)
For what its worth, I got nearly identical results using a radio shack digital SPL meter and correction files in room eq wizard. Remarks on measurements:
1. Not much can be learned about absolute performance from these numbers. That's just a fact of life when measuring in-room. One should only compare the relative performances: 70Hz: Velo > Rythmik by 2dB (probably insignificant) 60Hz: equal 40Hz: Rythmik > Velo by 4dB 20Hz: Velo > Rythmik by 4dB, but see the next comment.
2. The Rythmik could achieve 96dB @20Hz, perhaps a little more, if you relax the THD restrictions. I managed 96dB with 32% THD. I have no way to know how reliable this figure is, and would not be surprised if it is inaccurate. I have a room mode at 40Hz. This could easily have caused erroneously high 2nd harmonic measurements.
3. These THD-limited measurements for the Rythmik at 40Hz and above seem pretty close to max SPL. Only at 20Hz did THD really skyrocket as I tried to increase output.
4. These were all done in high damping, since the point was to make the best comparison with the Velo. The ability to move the Rythmik to lower damping settings is a nice bit of versatility.
5. I was planning to add more measurements to interpolate the ones above. However, I understand that Ikka is going to do some measurements of a Rythmik kit in his next round of testing, so I think I'll just leave it to him. While I didn't record all the results, I did measure at intermediate frequencies and I'm satisfied that the Rythmik should beat the Velo in output in the 20-50Hz region.
6. I do plan to continue measuring, just not the core linear systems type of results. I found some interesting things in my listening and I plan to follow up on those to see if I can figure out what's going on. I'm going to run some more music-inspired signals through the subs and see how they respond. In summary, based on what I've done in-room, it seems like the Rythmik will have greater output in the 20-50Hz range, more-or-less in line with the models and measurements from the other thread, but at the cost of higher THD at high output levels. I'm curious to see how Ikka's outdoor measurements come out, but I think this conclusion is pretty safe. Keep in mind this was all at high damping as well.
Listening
Here's my setup: All music stored on a Mac in Apple Lossless format. Squeezebox connected to Panasonic XR-55 receiver with coax digital cable. Bohlender-Graebener Radia 420DX speakers Subs were connected via RCA cable and crossed at 80Hz in the receiver. Sub crossovers were disabled. At the bottom of this post you'll find my in-room frequency response. Velo is blue, Rythmik is green. The in-room response was measured with my RS digital SPL meter and REW. I used boom stand to keep the mic where my head would be when I did most of the listening. For most of the listening, I had the subs arranged in a stack, with the Velo on top. The plots above are from this configuration. I swapped positions of the two subs so the Velo was on bottom; the plots and the sound (to my ear) were indistinguishable. With this kind of co-location, I could switch back and forth between the subs relatively quickly, to get a best shot at AB'ing the two. It's not clear to me why the Velo always had slightly higher output around the crossover, but this was the case in every single plot I made. I used no EQ in the system, just bass trapping and sub positioning. My in-room FR is not perfect by any means, but I don't think it's much of a factor in the results. I tried several locations before settling on this final position. The differences I heard between the two subs didn't change much with the positioning, actually. As long as the subs were in the same position, my listening notes (which I've included below) were pretty consistent. One other thing to note is that in any real room, measurements change substantially if you move your mic even a foot. I optimized things for one position, but of course my head was not always right there when listening. I think the important thing to note is that the subs are virtually identical in FR until they approach the crossover frequency, at which point there are still only moderate deviations. I didn't notice either sub as being more difficult to blend with the mains; they both sounded equally at home with the BG ribbons.
Music notes
For casual listening, these subs are indistinguishable. For careful listening, there are differences. I used a number of tracks while listening. My initial impressions haven't changed too much. Here's the list of tunes I used the most:
You Shook Me All Night Long -- AC/DC
A Thousand Beautiful Things -- Annie Lennox
The Old Apartment -- Barenaked
Ladies Jojo -- Boz Scaggs
You'd Be So Nice To Come Home To -- Jim Hall
Riding With The King -- John Hiatt
Oh Yeah -- Johnny A.
Lost Ones -- Lauryn Hill
Friction -- Morcheeba
Missundaztood -- Pink
All Mine -- Portishead By Your Side --Sade
Heavy Metal Drummer -- Wilco

First, both subs have that 'stop on a dime' quality. There's no overhang or boom in either one. Kick drums hit instantaneously, funky-finger bass is right on the beat. Lauryn Hill has some great beats. "Lost Ones" has a tight drum loop track; both subs did a great job. The bottom end was full and the kick hits were precise. A sparse track like "All Mine" by Portishead benefited in two ways: the bottom end was crisp and precise, and the sense of ambience in the recording was enhanced. As far as impact, crisp attacks, and lack of overhang go, I felt the two subs were equal. They both dug in right when asked to and they didn't linger on a note for a millisecond more than necessary. When you're listening to a busy track, both subs hit hard and don't clutter up the landscape. The one place I felt the Vela had a slight advantage was in cleanliness, especially on impulse-type sounds like kick drum or slap bass. The Vela is not a lot cleaner, but you can find places where it is noticeable, particularly on tracks which are mostly sparse and punctuated with hard hits of some kind. This was one of my first impressions and it remained consistent. It usually took something like a very tight, probably compressed, kick sound which coincided with some other instruments to bring it out. The John Hyatt track "Riding With The King" did it for me. The Rythmik didn't quite separate the sounds of the bass guitar and the kick drum as well as the Vela Both subs got out of the way as soon as the impulse stopped, but the Vela seemed more transparent on these sorts of duties. The Vela almost has a transparent "poof" sort of quality when it rounds out the bottom end on these kinds of impulses. The Rythmik is close, but this is the one place I feel you're giving something up compared to the Vela You also hear this on something like AC/DC, "You Shook Me..." or "Back In Black" have similarly sparse mixes with tight kick drum sounds. I am not sure what accounts for the cleaner impulses on the Vela I thought it might have to do with the different servo implementations. However, I'd expect impulse sounds to be one of the most difficult things for a servo to correct: there's no time for the feedback to do anything. I am wondering if the Vela's cleaner-sounding impulses has nothing to do with the servo mechanism at all. Perhaps this is just due to different drivers, box, sizes, or some other non-servo aspect of the system. I'm going to look into this more. On the other hand, the Rythmik does sound a bit more commanding on certain tracks. Bass seems punchier from time to time, with more authority on sustained tones. When a dirty or synth bass sound was sustained, I felt it blossomed a bit more with the Rythmik. The rock bass sound on Barenaked Ladies' "The Old Apartment" was a little fuller; the sustained, low synth bass on "A Thousand Beautiful Things" bloomed a little more. Frankly, this is the thing that really puzzled me when listening. I didn't expect any real difference in something like a sustained electric bass note, and if I heard another reviewer mention it I'd think they just had poor calibration, or liked distortion, or something else was wrong. I thought for a while about what are the possibilities for why it sounded this way. Poor level-matching? From my graphs, I'm pretty confident this wasn't much of a factor. If anything, the Vela would sound more commanding since it had marginally more in-room response around 70Hz. Harmonic distortion? I think that based on the measurements and the SPL involved (most music listening was done at 75-85dB SPL, with some excursions up to 95dB to check dynamics at those levels) there wouldn't be much difference in harmonic distortion. What else is easily measured which could account for it? I don't know. In any case, it was a consistent impression, so I'm going with it. It's odd, and I plan to look at some spectrograms to see if I can learn anything. Anyway, these two things were really what I felt to be the main differences between the subs. I noticed cleaner impulse sounds with the Vela, and more lively sustained bass with the Rythmik.
Movie Notes
There's no reason to choose the Vela for movies. In terms of clarity, the two subs are so close that there's no advantage to either one for movies. I suppose it's technically possible you could tell the difference, but if you'd really have to be paying strict attention to the closing credit soundtrack or something like that. In any case, the Rythmik's advantages in output and extension (in 14Hz mode) make it an obvious choice. You notice the additional half-octave or so you get with the Rythmik. Infrasonics are more palpable. The additional output and headroom may or may not be an advantage; that depends very much on your situation and your listening volume. However, the extension will be absolutely be noticed. I didn't focus too much on movies for my listening. It seemed pretty open-and-shut. I watched a few choice scenes from the Lord of the Rings films, some scenes from The Empire Strikes Back (the battle on Hoth), and didn't feel too much need to push things further. There just isn't much to say about movie performance. The clarity of sound is indistinguishable and the Rythmik has a couple of concrete advantages. When the AT-AT walkers walk through the snow on Hoth, you feel the impact clearly with both subs but there's a little more pressurization with the Rythmik. The "Ring Drop" in LOTR and the battle with the Balrog in LOTR were places where the Rythmik gave better pressurization and a bit more overall impact. Anyway, if you run the Rythmik in 20Hz, there isn't much difference at normal levels, though you would notice the difference when you really push the subs. If you run the Rythmik in 14Hz, it's got advantages even at more moderate levels, assuming your room isn't so large that you just lose the 14Hz pressurization.

top
| | |
| --- | --- |
| Customer: | Rolf H |
| Product: | DS12-sealed Direct servo kit |
"The sound of both subs are incredible and you will be hard pressed to find anything comparable for less than $3000.00. Considering I spent about an average of $800 each to build them, I consider them to be a true bargain."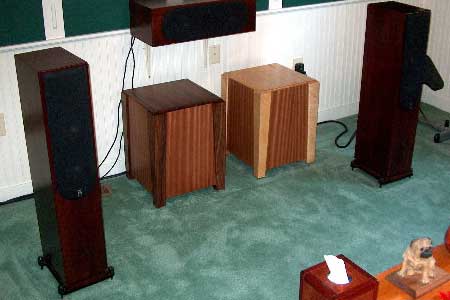 "I had the chance to compare the new servo kit, with the aluminum driver, to the old kit over the weekend.
Both subwoofer enclosures are identical except for the choice of wood for the legs and I moved the position of the amp down 3/4" of an inch on the second sub to make it easier to mount the amp between the "legs". The cabinets are made from 1" HDF with four internal cross braces. The top and bottom is reinforced with 3/4" birch plywood. With the solid wood accent piece this makes the total thickness of the top 2 1/8" thick! The sub on the left is Sapeli and Santos Rosewood. The sub on the right is Sapeli and Quilted Birdseye Maple. The inside of the subs are lined with acoustic batting. The amplifier is inset flush and the woofer is inset 3/8". The total weight if the finished sub is about 120 lbs. They are finished with 12 coats of semi-gloss poly-acrylic (sanded between each coat, of course). The subs sit on 1 3/8" heavy duty spikes.
Now as far as the difference in sound between the old and new kits goes, they are very similar. I used test tones from 250 to 20 Hz to test frequency response. The old driver is a little bit more efficient (ie - a little bit more output). The new driver is a little bit more controlled at 20 Hz. I don't think that anybody will be able to tell the difference between the two subs sound unless they are placed side by side. However, there is a difference of about 2db in efficiency between the two. I prefer the sound of the old kit for movies/home Theater and the new kit for music. Of course, I'm really splitting hairs here. The sound of both subs are incredible and you will be hard pressed to find anything comparable for less than $3000.00. Considering I spent about an average of $800 each to build them, I consider them to be a true bargain.
Thanks again."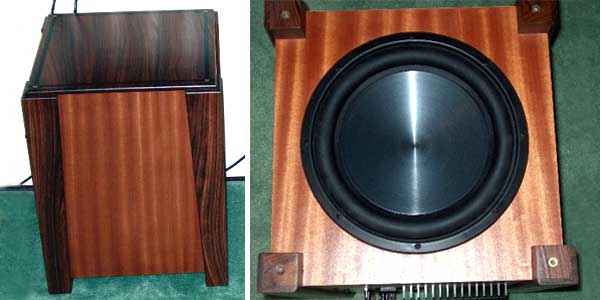 Reply: The efficiency that Rolf referred to was more on sensitivity than the efficiency. We have since increased the gain of the preamp stage so that the sensitivity in the new kits matches the previous version of kits. Also we have changed the low damping setting to Q=1.3 (from 0.9 previously) to provide a wider range of damping control.

top
| | |
| --- | --- |
| Customer: | JB |
| Product: | DS12-sealed Direct servo kit |
"I do not believe I have ever had this level of bass definition before. No boom, no overhang, just well defined musical notes and harmonics."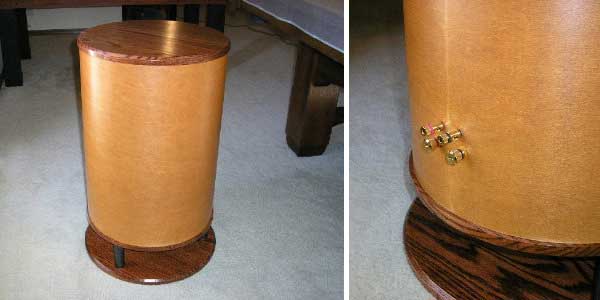 "I have finally finished the cabinet for the DS12-sealed, and I just have to say WOW. Over the last several years I have been searching for a sub that would complement my 2 channel set up. In that time I have purchased several commercial subs (HSU, Paradigm, Yamaha etc.) and built two others. The first was a Dayton Titanic Mk III that I put in a 2.2 cu ft cabinet, and the second was a Dayton DVC in a 2.5 cu ft sonotube. Both of these subs performed quite well, but I felt I could do better.
At about this time I heard of your company and decided to give you a try. To make a long story short, I do not believe I have ever had this level of bass definition before. No boom, no overhang, just well defined musical notes and harmonics. Once again thank you for a fantastic product and great customer service.

top
| | |
| --- | --- |
| Customer: | Peter M |
| Product: | DS12-sealed Direct servo kit |
"... the subwoofer is truly excellent, tactile and clean with no blurring of the bass line."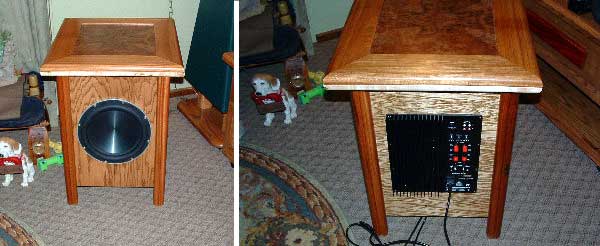 "Just a note and a few pics - the subwoofer is truly excellent, tactile and clean with no blurring of the bass line. The shock wave from the cannon shots in Telarc's 1812 overture broke two windows and killed a deer in the meadow outside! (Just kidding but the sound was awesome!)
Closed box: walls are all 1.5" composite of MDF and Red Oak Plywood. Legs are Brazilian red wood as are the top edges. There is a single internal brace placed horizontally at about mid height. Weight approximately 100lbs - no internal stuffing or wall treatment!
Thanks for producing a great product."

top
| | |
| --- | --- |
| Customer: | Kent B |
| Product: | DS12 with LT circuit & 2.5 cu ft sealed box enclosure |
"… the DS12-LT-A250 Kit sounds better than I could have imagined! The bass is well defined and goes really deep … I am hearing notes I never heard before."
"I have now finished constructing the sub cabinet and have to say that the DS12-LT-A250 Kit sounds better than I could have imagined! The bass is well defined and goes really deep. I have plenty of headroom with the amp and driver and found a comfortable setting at about one quarter volume. Movie soundtracks are amazing, I enjoy watching the end scenes from 'The Incredibles" and I am hearing notes I never heard before.
The most difficult part of a good set up is to find a smooth integration point with my other DIY [do-it-yourself]) HT speakers from Parts Express. Right now I am using the THX setting of 80Hz for the sub crossover but I think I need to fill a hole in my main system from 80 – 2 50 Hz or so. I will be experimenting with placement of the sub and the receiver's level and EQ settings for the other speakers. I'll be using an SPL meter to help with this process.
So, I am quite happy with the way things turned out.
Thanks Brian for a great product!"

top
| | |
| --- | --- |
| Customer: | Danlaudionut |
| Product: | A370-SE Plate amp |
"The A370-Special Edition is an awesome unit! Hooked to my HiVi D10G subwoofer in a sand damped 3 cubic foot ported enclosure. It's very musical with nice deep and tight bass. It does take some hours to break in though. Since the crossover is ~180 Hz it needed to be musical. I will need to get another one for stereo obviously. Deep bass extension came in after ~20 hours. After 50 hours the music started coming alive. It seems to be getting more musical all the time. Five Star rating. Excellent Product! Highly recommended."

top
| | |
| --- | --- |
| Customer: | Geoff S |
| Product: | DS12-sealed Direct servo kit |
"I have mostly completed building of my box for the servo kit 12 inch that I bought from [Rythmik Audio], and I am very impressed, it seems to have the benefits that I gained when I borrowed my friends REL (with my Wilson Benesch Act 1's)."

top
| | |
| --- | --- |
| Customer: | Chris B |
| Product: | DS12-sealed Direct servo kit |
"I am amazed you can sell this kit at that low of a price! … Music was the most absolutely spectacular portion of testing the subwoofer."
"I am amazed you can sell this kit at that low of a price! This subwoofer has good bass, wait, scary bass when you put it up. I find halfway on the gain to be more than appropriate, anything higher is insane in my room. This subwoofer playing music is a whole new experience for me. The bass is not the muddy one-note bass where everything just sounds like a loud boom, it blends so well with any speaker I match it with.
I paired it with the following speakers: Sony speakers, Klipsch horn-loaded speakers, and even generic computer speakers. And every time I tried different speakers it blended well with all the speakers. I ran every different type of music with it, the most amazing was pipe organ music. The bass that came out of the driver was shaking everything in the room. Everything I threw at it frequency-wise, it handled extremely well.
With computer video games, I played Half-Life 2 and Counterstrike: Source. Both games were a whole new experience with this subwoofer. The gunshots in HL2 could be felt and sounded so real. In Counterstrike: Source, there is a speaker test where it is raining so I decided it would be a perfect test for the subwoofer. As I was running the speaker test you could hear all the rumbling and thunder from the computer simulated rain, at that same time my brother walked in and he asked me if it was thundering. He had heard the bass from the other room and could have sworn it was real thunder.
With movies this subwoofer has to be felt, not heard. This subwoofer produces such great bass, it can create a whole new mood for the movie, since you now feel the bass. I played Master & Commander at reference levels and it was like a new experience, the movie felt completely different, the sheet rock walls literally shook during explosions.
Music was the most absolutely spectacular portion of testing the subwoofer. When I was testing Electronic music, it sounded like I was at the club, the output this subwoofer can put out when pushed hard is really amazing. I also played Rap music and had the same effect; the subwoofer could easily outperform my speakers. I also listened to some Rock music, Pink Floyd - Money was a highlight. The bass guitar was very clear as was the bass drum.
PS: I finally was able to run the Rythmik through some sweeps and measure the frequency response with a calibrated microphone, calibrated SPL meter, and Room EQ Wizard. Here are the near field measurements @85 db for the different extension settings (all measurements were done at high damping) and the in-room response @75db from 2 meters away. I was extremely impressed by the results."

View charts (opens in new window)

top
| | |
| --- | --- |
| Customer: | Linn T |
| Product: | DS12-sealed Direct servo kit |
"I know we are getting lower frequencies than with the Velodyne fs-1500. We had things vibrating in our kitchen that had never moved before, even at louder volumes."
"I finally got them finished yesterday. WOW!
I went overboard in the cabinets and was a little worried when I fired up the first unit, it was very dull sounding. I lined the insides of the 1.5 inch thick cabinets with Parts Express Sonic Barrier. It is a combination foam and limp barrier product. I also cross braced the walls and attached some open cell foam between the driver and amp to absorb any sound reflected off the amp. The boxes sound very dead when rapped with knuckles and it was weird to hear sound die when I stuck my head in the box when I was working on them.
Anyways, we ran some errands and left the speaker on to break in. Big difference. The units now have 8-10 hours on them and I am hearing detail in the low frequencies on CDs I did not know existed. I have been able to set my main speakers to small and shift more of the bass to the subs and this has improved the sound from the mains (Magnepan MMGs).
I have not tweaked them a lot yet to get a perfect match, but they sound pretty good now. I know we are getting lower frequencies than with the Velodyne fs-1500. We had things vibrating in our kitchen that had never moved before, even at louder volumes. My wife is very happy with the sound and that is always a good thing. She thinks they are worth the money and mess I have made putting everything together.
A very satisfied customer. Thanks for everything."

top
| | |
| --- | --- |
| Customer: | Virgil J |
| Product: | DS12-sealed Direct servo kit |
"Being a servo sub, it is very accurate. If the music is mixed with very little bass emphasis it will sound that way, if mixed with a big bottom end then the sub shakes the walls."
This testimonial was posted on the AVS forum*
http://www.avsforum.com/
"I have a Rythmik audio servo sub paired with my MMGs and it sounds fantastic. I have analyzed my room curve on SMAART and the MMGs roll off pretty quickly around 100Hz which is a little high for my taste, but the servo sub sounds good up that high and is still very responsive. I have it low passed at 110Hz.
Being a servo sub, it is very accurate. If the music is mixed with very little bass emphasis it will sound that way, if mixed with a big bottom end then the sub shakes the walls. This is different for me from other non-servos I have had in the past where I can tweak them to output a certain db regardless of the material I am playing. I tuned my servo using pink noise at a 90 db level and that is pretty loud for MMGs in my living room, as they are not a high SPL speaker."
*Editorial note: Advice to another member of the forum has been omitted.

top
| | |
| --- | --- |
| Customer: | JL |
| Product: | DS12-sealed Direct servo kit |
"When I got those kits and stuck them in I was in bass heaven. I've made subs before but these don't compare. It's not the box but the technology of these kits that make solid bass so real and life-like."
"Making these subs was fun and easy because not much to figure out. All you need to know is the volume 2 cu ft and it's sealed. The rest is all up to your imagination.
My object was to fill out the low end for home theater purposes and not to have to buy stands for my monitors, so I built two matching subs to kill two birds with one stone. I imagined what they would look like, put it on paper and then built them. It was a pleasure to build because I took my time. The driver and amp took a month by ship to Hawaii (because I am cheap) and I got the measurements, (driver and amp holes), from the site and had a whole month to build them. My finish was so beautiful!
When I got those kits and stuck them in I was in bass heaven. I've made subs before but these don't compare. It's not the box but the technology of these kits that make solid bass so real and life-like. I am not much into music but openness and sound stage increased and, movies became life-like and pleasurable at high levels but, the realness of simple machines, car engines bombs bullets etc. was so good it was relaxing because the subs were not straining."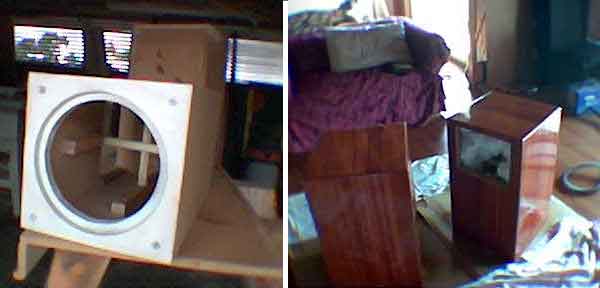 top
| | |
| --- | --- |
| Customer: | AJ |
| Product: | DS12-sealed Direct servo kit |
"Overall I'm happy with your product and have recommended them to anyone who will listen."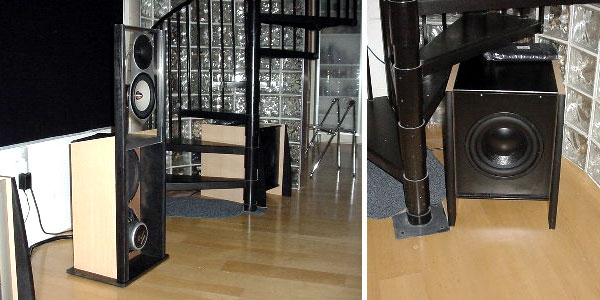 "Can you believe it's taken me this long to get anything (somewhat) done! I attached a couple pics of what i did with your subs. One is built into a bookshelf case used to store DVDs, etc. That's upstairs in the theater. Works great with my Infinity speakers. Fills out the bottom end nicely, crossed @ 70Hz since my Infinity center is fairly large - 6.5" x 2 woofers. Hard to localize when crossed that low. I have gotten it to bottom on a few movies (Shrek2, etc), but overall I'm quite pleased.
The other is used with a pair of self built Linkwitz Orion type speakers. I don't know if you are familiar with this design but they are the best speakers I have heard myself. I have audiophile friends with some very expensive Electrostatics as well as boxed speakers, plus I visit the high end stores here in town for reference. I use your sub in my music system to augment the lowest frequency below 35 Hz to limit the excursion of the dipole subs of my main speakers. It's probably overkill, but again I have strained my Orions low end on several classical and jazz CDs, so I think it worth it. Overall I'm happy with your product and have recommended them to anyone who will listen. Thanks again."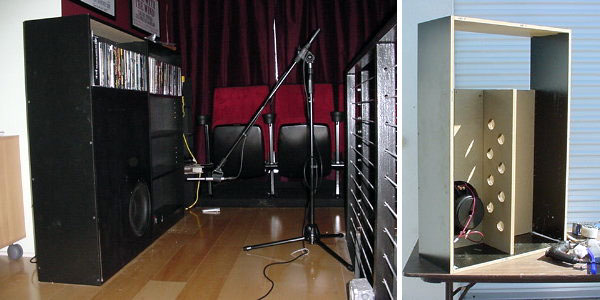 Reply: One can bottom out the driver if the enclosure is larger than what is recommended. In addition, there is an inevitable unit-to-unit variation which can cause some units to be more efficient (that is, larger Vas), which leads to the bottoming of these drivers. In this case, we recommend reducing the enclosure volume using 2 x 4" wood blocks.

top
| | |
| --- | --- |
| Customer: | Rob (Ohio) |
| Product: | DS12-sealed Direct servo kit |
This is the cleanest, tightest, and most accurate bass I've ever experienced.
"Hi guys. My name is Rob from Ohio. I have one of your servo combo that I got from a friend of mine-Ron D. I built the enclosure myself out of one inch MDF and sealed with epoxy in and out. I finished it with topcoat auto enamel and buffed it to a high gloss shine. (I used to work in a body shop). The end result was worth the time. This is the cleanest, tightest, and most accurate bass I've ever experienced. I have it running with my MTM Focal polyglass towers. The sound is great! Thanks."

top
| | |
| --- | --- |
| Customer: | Michel M. (Netherlands) |
| Product: | DS12-sealed Direct servo kit |
I've found the addition of the sub enhances the listening experience significantly. The clean, fast and tight bass adds a lot to the music. And when watching movies, the bass can literally be ground-shaking! You can really feel it, without any 'boominess'.
"In November 2004 I received a DS12 sealed kit, and I want to give you some feedback on the project. After receiving the package in good order, I drew up an 17"" square enclosure and had the panels for that sawed out of 1" MDF at the local shop. I made a closed box down-firing design with 30 mm ground clearance, and bracing of side and top walls. The sub stands on 3 Totem Claws and weighs in at almost 40kgs. It still needs finishing, but I wait for that until spring, because I want to do the filling, sanding, priming, spraying etc. outside my house.
But of course the sonic characteristics are the ones that count the most. The sub is connected by two QED MP-SW cables to the front channel pre-outs of my Primare SPA21 amp, with the sub settings damping on 'high' and extension to 14Hz. Crossover is at approximately 60Hz. Initially I could hear some (male) voices coming through, so I've switched to 24dB roll-off and that helped a lot. I'm very pleased with the sound of the sub. With all sorts of music I listen to (which varies from metal, dance, pop to classical), I've found the addition of the sub enhances the listening experience significantly. The clean, fast and tight bass adds a lot to the music. And when watching movies, the bass can literally be ground-shaking! You can really feel it, without any 'boominess'.
So, all in all, I'm very happy with my new sub. I've recommended your kit to my local speaker component/kit shop in Rotterdam, maybe he have/will contact you."
Follow-up
"I've now finally been able to do the finishing job about two weeks ago and thought you might be interested in a picture of the end result (please see above). The sub is painted in high gloss black, and now serves as a stand for one of my houseplants. It is placed directly behind my listening position. I've also added a 2nd (sandwich) layer filled with sand on the top side, since it still passed through some vibrations at higher volumes. The side walls are completely silent since they are tensioned by the bracing walls, which I made about 2mm oversized and then hammered (literally) in between the side walls.
I'm still really enjoying the sub by the way!"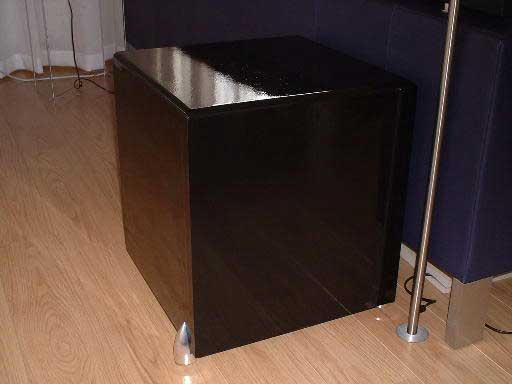 top
| | |
| --- | --- |
| Customer: | Ken A |
| Product: | DS12-sealed Direct servo kit |
The output is extremely tight, the word that comes to mind is "transparent" since when I am listening to music I cannot detect that I am listening to a speaker.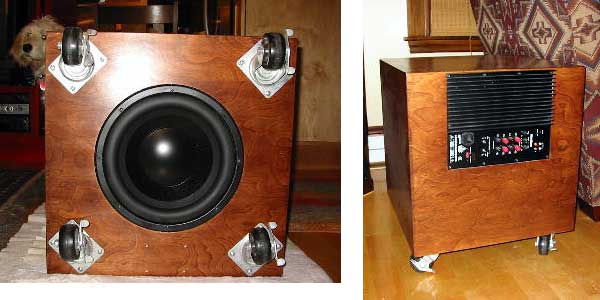 "The finished box is a 19.75" cube, however the speaker baffle (bottom) and the opposite wall (top) were reinforced with an additional layer of 1/2" MDF so their total thickness is 1.625" The interior dimensions therefore are 17.5" x 17.5" x 16.5", which comes out to about 2.9 cu ft, and the bracing, projection of the speaker and amp, etc. added up to about 0.6 cu ft, so the effective interior volume is 2.3 cu ft.
Additional construction details:
There is a main horizontal brace of 1.25" MDF and four 1/2" braces, two above and two below the main brace. The lower two were cut to allow room for the speaker. I cut a pattern of holes (1" - 5" diameter) in all the braces to optimize the internal volume and airflow; I then rounded over all the edges with a 3/8" bit so the interior of the box would contain no acute angles.
When I assembled the box I also made sure to place the braces so the vent holes in one brace were offset from the holes in the adjacent brace. The braces were rabbited into each other and the box sides, and glued to each other and the box sides with polyurethane glue. I then sealed all the internal surfaces with two coats of marine varnish, and lined the interior box walls with 1" dense acoustic foam. The box sides were attached with polyurethane glue and self-drilling pocket hole screws. All screw holes were countersunk and later filled with Bondo wood filler and sanded smooth.
The outside surfaces were then sealed with diluted yellow carpenters glue and finished with double thickness maple veneer using contact cement. The veneer was later stained to match the existing woodwork (gumwood) in the family room using Bartleys Gel Stain, and varnished with two coats of Bartleys Gel Varnish (satin). After the first coat of varnish I went over the edges with some mineral spirits, so the end result has a "worn" look, like a piece of old furniture.
Before installing the components the cavity was loosely packed with polyfill. The finished sub weighs approximately 175 lbs, so I attached four casters to the bottom which allows it to be rolled around and also elevates the box about 4". My goal was to make the box as "dead" as possible and I think I accomplished that goal. At peak listening levels (110 -115 dB), I cannot detect a buzz, vibration, resonance or any aberrant sounds coming from the speaker. Other than the waves of bass relentlessly pounding me, the only other way that I can tell the sub is on is by putting my hand underneath it to feel the air current, or placing my hand on the top of the box where I can detect a slight vibration.
The output is extremely tight, the word that comes to mind is "transparent" since when I am listening to music I cannot detect that I am listening to a speaker. I am using a Behringer parametric EQ to even out the in-room response, because my room and sub location were pre-defined and ultimately not very optimal. I really need another sub to correct the room response, but there's no way I am going to relive the experience of making this beast (and after the first experience I think my wife would kill me if I even mentioned the idea of building another sub). At peak volume, the initial measured output at 35 Hz is about 115 dB, 105 dB at 20 Hz and approximately 95-97 dB at 18 Hz; it drops off steeply below 17 Hz. I don't know the upper limit since I have my amps crossover set at 80 Hz. Like I said before, I need to re-EQ the box since it has broken in, and once I have a few spare moments I will plot out a room curve and send it to you.
Overall, I love the sub, and the entire experience of designing and constructing it was very worthwhile. It's kind of amusing to think that when I initially shopped for subs I was looking at the $600 HSU and a couple of other box subs and decided to go the kit route thinking that I was going to save money. If I add up all the material costs my total expenditure comes out to about $1600 . $200 for the MDF, $150 for the veneer, $350 for the components, $100 or so from Parts Express, $40-50 for glue, varnish, assorted hardware from the Home Depot, ancillary expenses like the $600 table saw and $100 -200 of other hardware, router bits, circle jig, dado blade, other saw blades, etc. I think I actually still accomplished my goal of saving money, because the end result is on a par with a $2000 - 3000 sub."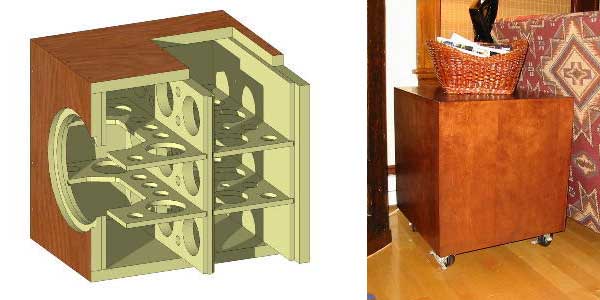 top
| | |
| --- | --- |
| Customer: | Darren K |
| Product: | DS12-sealed Direct servo kit |
The sound is everything I'd hoped for with convincing weight, body, extension, dynamics and slam. These attributes, along with excellent articulation, provide a more toe-tapping presentation as the bass lines are more realistically weighted and detailed, not buried underneath. It's quite satisfying when you hear that some bass notes, previously thought to be a single note, are actually two notes or a series of shorter notes.
"As you know, my main speakers are the Ambience Ultra 1600 Special Edition ribbon hybrids from Australia. The ribbons have sensational transparency and inner detail, and seamlessly cross over to an upward firing custom SEAS 6.75" woofer at 420Hz. The Ambience woofer is quick and tight but lacked a little weight, slam and dynamics in my large-ish room (19'w x 24'd x 9'h). My system is strictly 2-channel audio only. So, I needed a high quality sealed sub with low Q and high damping, that was extended and articulate with excellent transient response, to integrate with the Ambiences.
After a LOT of research, I chose the Rythmik Audio DS350 kit. Brian was very patient and helpful in answering all of my questions. I designed and built a 2.0 cubic foot sealed enclosure with all walls being 1.5" MDF (2 x0.75" layers), plus full internal bracing. I rounded over all external edges and even the edges of the circle cut-outs in the internal bracing. The sub weighs in at a healthy 93 pounds!
After sufficient break-in, I integrated the sub into my system using the ETF measurement software. With the sub placed between the speakers, the damping set to 'High' and extension filter set to '20Hz', the system measures within +/- 1.5db from below 20Hz to above 200Hz at my listening position.
The sound is everything I'd hoped for with convincing weight, body, extension, dynamics and slam. These attributes, along with excellent articulation, provide a more toe-tapping presentation as the bass lines are more realistically weighted and detailed, not buried underneath. It's quite satisfying when you hear that some bass notes, previously thought to be a single note, are actually two notes or a series of shorter notes.
Properly integrated, the sub never draws attention to itself. But when there is real bass in the material, the performance is far more convincing than it is without the sub. This includes drums, plucked and bowed bass, organ, piano etc. The presentation is more effortless, dynamic, realistic, and emotionally engaging.
Properly built and integrated, this sub performs way beyond its price point."


top
| | |
| --- | --- |
| Customer: | Patrick S. (North California) |
| Product: | DS12-vented Direct servo kit |
"After 5+ years of searching for the perfect balanced subwoofer for both music and Home Theater, I believe I've found it in the Direct servo Mini-Thunder. Over those 5 years I've owned and tested 15 different subwoofers, including the HSU VTF-2, SVS PB12-ISD, Paradigm PW-2200, Earthquake MKIV-12, Velodyne Supercube II, and the ACI Force to name a few of the higher profile models.&ldquo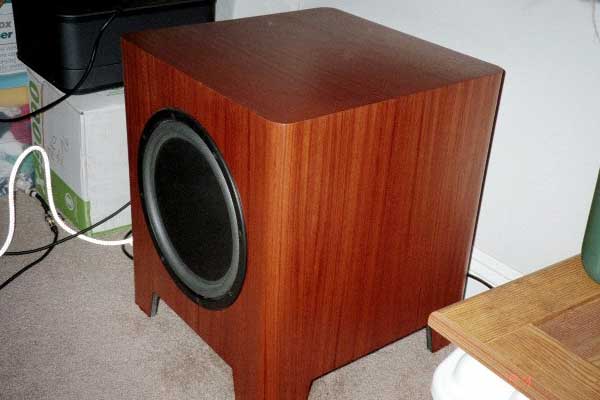 " First let me describe this little gem of a subwoofer. The Mini Thunder cabinet is a Passive Radiator cabinet, designed by Acoustic Elegance L.L.C. (formerly Stryke Audio). The internal volume of the box is 2 cubic feet, the external dimensions are 17" x 17 " x 17" with 3" legs. It has two 12" 670 gram passive radiators that are side mounted opposite of each other, which tunes the enclosure to 20Hz. The Rythmik 12" Direct servo driver is down firing and is powered by the Rythmik 350 watt Direct servo amp.
I was originally using a Stryke AV12 MKII 12" driver powered by a Rythmik Basic 350 watt amp. This set up worked very well for movies, however the bass was not as tight and defined as I would have liked for music. And as I've progressed in this hobby (and aged a little), music became my primary interest. My first thought was to install the Rythmik amp and Stryke driver in a sealed cabinet. So I contacted Brian Ding (owner of Rythmik Audio and maker of the amp), and asked if he could modify the 350 Basic amp by adding his custom Linkwitz transform add-on module to help equalize the AV12 MKII driver for a sealed box. He said he could, but with my main interest being music, he recommended I try the Direct servo amp/driver in the same Mini thunder cabinet. So after thinking it over I decided to give the Direct servo a shot.
For placement, I use a near field position directly behind my couch, 5" from the back wall, off center 1/3 of the way down that wall. This position is tricky to get the bass to blend with the mains (especially crossed over at 80Hz), which are 9.5 feet from the seated position, but really is my only option for placement. I optimized the phase and levels settings before testing. I set the Rythmik amps crossover to the maximum setting, opting to use the 80Hz crossover in my 56TXi receiver. Considering placement and the frequency response of my speakers, this proved to be the best setting. The Rythmik amp also features a defeatable extension filter with separate frequency (14Hz, 20Hz, 28Hz) and damping control (Hi-0.6, Med-1.07, Low-1.33). For music listening tests, I had it set to 20Hz with the High damping setting. For Movies I kept it at 20Hz but lowered the damping to Low, which gives a 3 dB boost.
When I started my listening tests with music (of course), I had my parametric EQ bypassed (which I use to tame peaks two at 46Hz and 55Hz). I was very impressed with no EQ, but when the bass notes hit those freq. it still sounded a little "boomy". So I set the EQ to take out those room peaks and got down to some serious listening.
My first test is always with Fourplay's "Chant" from the "Between the Sheets" CD. It has a powerful kick drum through most of the song. It is great testing overhang, for less articulate subs the drum note will continue "out" and sound blurred and muddy. With the Direct servo Mini thunder the kick drum kicked hard on que, but then stopped on a dime. Once more it blended perfectly with my mains, with absolutely no localization of the sub at all. Next up was the track "Django" from the "Ray Brown Monty Alexander Russell Malone" SACD. With none other than Ray Brown on bass. The Direct servo rendered the bass with such clarity and definition, it was so easy to just close my eyes and imagine Ray Brown right there in my listening room plucking those bass strings. There was definitely no "one note bass" coming from this sub! Then I popped in Diana Krall's Love Scenes CD, which is loaded with some very rhythmic bass on most of the tracks. Again, the Direct servo had amazing rhythm and pace. Every pluck on the bass was tight and defined. I then put in the Eagles Hell Freezes over DTS concert DVD. Hotel California is one of my all time favorite songs and the bass drums in the opening minute are just outright powerful. The bass coming from the sub was deep and profound, but still blended perfectly with the rest of the soundtrack, never drawing undue attention to itself. In fact that is what impressed me most, no matter what kind of music I played, the Direct servo Mini thunder did what it was supposed to do, be a seamless extension of my mains in the lower frequencies (flat down to 17Hz).
In all the subs I've ever owned, none could achieve this level of "musical definition".
However, though my main interest is music, I still need a sub that will transport me to those high impact action movies every once in awhile. I played around with some of my favorites, Air Force One, Lord of The Rings (especially that infamous ring drop), ID4 (opening scene is thunderous), and Armageddon, along with a few others. The Direct servo Mini Thunder never bottomed out, showed no signs of stress, and literally shook my house (which is not easy to do with concrete floors)! The bass was never bloated or boomy, and you never knew it was there until it hit (and hit hard). I measured a peak SPL of 113 dB at 3 feet with an SPL meter. And that is louder than I would usually ever care to listen anyway.
To sum it up, this is the most accurate subwoofer I've ever owned and it's got more than enough power to fill my 25 x 20 room. There are of course more powerful subs out there, but this one fits the bill for me and all things considered is relatively inexpensive. It took a lot of time and money to find the perfect sub for my listening tastes and needs, but this is it! Thank you Brian for a simply amazing Amp and driver. The combination of the Direct servo and Mini Thunder cabinet is truly amazing. IMHO, it gives me the best of both worlds for music and movies!


top
| | |
| --- | --- |
| Customer: | Bob Knox |
| Product: | DS12-vented Direct servo kit |
"… music sounds wonderful with the combination of the Axiom bookshelf/center plus the DS350 sub."
"I wanted to sort out the last serious problem with room acoustics before writing back. Combined with my new mains, listening to music with the Direct Servo 350 is a joy renewed.
The sub went together great. I had a 16" x16" x18" cabinet ready with appropriate cut-outs when the kit arrived, and was able to finish assembly in under an hour. The 3/4" MDF box has double-thickness (1.5") front and back, and 1/2" MDF reinforcing panels attached inside the top, along the bottom corners, and bracing the middle 7" of the sides. (~ 1.64 cu. ft. internal.) I used a can of "Quiet Cote" to seal the inside. The resulting box was nicely non-resonant and weighed about 40 lbs. The outside was primed and painted (semi-gloss black) and then I covered the top, sides and bottom with pebble-surface black vinyl sheeting.
Looks good, and is fairly inconspicuous with a dark gray carpet and black speaker grill cloth. Works as a low end table next to a chair we use occasionally. Might have been nice to have black-head wood screws included with the driver, since these aren't routinely available at home centers any more, but I made do with stainless screws and washers. They're behind the speaker grill anyway. The (smaller) screws supplied with the plate amp were a real help. I put ~1 lb of "Acousta-Stuf inside the box though I don't know what difference it made. Having the pre-made wiring harness to plug in the driver is a great idea, it made installation very easy.
As expected, there's plenty of power for our smallish (13' by 15') room. I routed the receiver's subwoofer line out to the left channel line-level input on the DS350. Leaving the sub's volume control at ~1/3 has the receiver's Yamaha YPAO calculating only about a -1 db correction for the subwoofer. (Having the sub volume at ~1/2 results in a largish level correction at the receiver, so I opted for more line-in signal to the sub and less amplification there). The sub blends well with my Axiom mains (M22ti) and center (VP150), and seems only slightly better with a 40 deg. phase adjustment than 0 deg. I have the right main sitting on the sub and the left main on a 16" tall, sand-filled stand I made to match the height of the sub (and the height of stands that Axiom recommends for this speaker model).
Because my satellites (SL, SR, SB, and "presence L/R") are small Yamaha 2-way speakers, I opted to set the receiver's base crossover frequency at 90 Hz. The cleanest blend came from setting *all* the speakers to "small" and setting "base out" to "subwoofer". The Axioms could go lower, but setting "base out" to "both" perhaps over emphasized 60-90 Hz. If I could re-route the surround channel 90-120 Hz signal to the mains, that'd be slightly better, but it's not noticeable on most material. Blending 2-channel music across the front 3 speakers (using Dolby PLIIx) got much better as I adjusted the crossover from 60 Hz to 80 Hz, and was about the same at 80, 90, or 100 Hz. Going higher than 100 Hz, I could hear the signal dropping away as the DS350 response rolled off. Less than 80 Hz and the center channel didn't image as well in combination with the mains. 90 Hz seemed like the overall best compromise. Eventually I plan to buy some better surround speakers that'll start to roll off closer to 80 or 90 Hz.
In the mean time, music sounds wonderful with the combination of the Axiom bookshelf/center plus the DS350 sub. My wife and I have been spending a lot more time in this room, listening to music. The set up works very well with movie sound-tracks as well. Our movie DVD's are newly engrossing. Also the other night we watched Lord of the Rings: Return of the King, on cable pay-per-view. Despite our Comcast converter putting out analog 2-channel "matrix surround" sound, the experience was very involving. Bass from the scene of Mt. Doom erupting had the house shaking. Music on the soundtrack was exquisite. My wife is really looking forward to the sound during an annual 'video fest' she and a good friend have when the friend visits us August. The friend is a musician who plays the Viola da Gamba, and she may be able to offer a more professional assessment of the musical properties of the new set-up.
The toughest part has been dealing with room gain and modes. I experimented with sub placement, using evaluation sweep tones on the Avia DVD. Things were closest to flat with a placement towards a corner and closer to the front wall than the side wall. I could minimize the peak at ~40 Hz with careful placement, but not tame the 44 Hz mode or solve other problems. I have home-made cylindrical (14" or 14.5" diam.) base traps in three corners. They do a nice job reducing long-reverb and really tightened up the mid-bass response when I added them. They don't do much for room modes at 38 Hz and 44 Hz. The 44 Hz mode was the strongest, but other frequencies showed big (> +/- 10 db) variation moving a few feet around the listening zone.
What I finally made (and installed this Saturday) was a poly cylindrical diffuser 3' by 14', constructed with a couple of sheets of 1/8" tempered hardboard and a wooden frame. I had previously installed 4-5" thick by 15" wide fibreglass + burlap panels across the top corner of the back wall, hoping they would work as a bass trap. I assembled and painted the diffuser and added some fibreglass batting in the middle 6' or so to increase its sound absorption and broaden the range of bass absorption (nominally around 40 Hz). I then installed the resulting diffuser/absorber on the ceiling but with the back edge against the bottom of those corner panels (also spanning the corner). Our den has 3 faux beams ~6"x6" running lengthwise (15') along the 8' ceiling. Thus the diffuser is visually unobtrusive, between one beam and the back wall. The shape helps spread out mids and highs from the surround channels, while the structure absorbs errant deep bass.
The results: the 44 Hz front-wall-back-wall resonance was nicely tamed! I could then adjust the subwoofer's position to be 1/8 wavelength (45") from the right side wall to better tame the 38 Hz side-to-side wall mode. Interestingly, not only did the booming response 37 - 44 Hz damp down, and the drop outs around 50-55 Hz come back up, but the sound near 30 - 35 Hz got much better! The worst remaining feature is some significant point-to-point variation in the sound 60 - 65 Hz. It's < +/- 10 db, and the other residual variations are smaller - as long as you don't stand right in a corner or against the back wall! Much of this was work to clean up sound I couldn't even hear with our previous gear. In retrospect, I probably should have made one of the corner bass traps 20" diameter, but this is an audiophile fine point. With the strongest modes damped down, now the subwoofer can really shine.
Small room acoustics turn out to be rather tricky, something I didn't quite appreciate before. Having such a wonderful subwoofer, from your DS 350 kit, made it well worth the time and trouble to better understand what was wrong with our listening room and design appropriate solutions. Now after several months of gear shopping, research, measurement, design and DIY construction, I'm finally easing up on being such an instant 'audio geek' and taking time to enjoy the music!"

top
| | |
| --- | --- |
| Customer: | Jim H (VA) |
| Product: | DS12-sealed Direct servo kit |
My first reaction was WOW! The bottom end of the Klipsch LaScalas now went all the way down to 16Hz, and the room was moving!
"Leaving the toggle as you set them, high damping, 14Hz, I set the crossover point as low as possible, with volume at mid point. The first recording was Thomas Murray playing the Woolsey Hall organ (E.M. Skinner) at Yale University. The 32' Sub-Bourdon in this CD is really felt, more than heard. My first reaction was WOW! The bottom end of the Klipsch LaScalas now went all the way down to 16Hz, and the room was moving! This is not your father's boom box! My wife came into the living room to tell me that the bedroom windows at the far end of the house were rattling, which is exactly what occurs then one is in a building with a real pipe organ and the 32' bottom CCCC of the pedal is played. Can you tell, I'm very happy with your system."

top
| | |
| --- | --- |
| Customer: | Mika V (Finland) |
| Product: | DS12-sealed Direct servo kit |
"I did compare the damping setting ... I found out that the bass drum in Eagles/Hotel California/Hell Freezes Over is a nice test sound for comparing those. I compared it to my previous sub (Audio Pro Focus -made in Sweden) which is generally regarded as tight sounding. Focus was comparable to the 'mid' position. When in 'low' the sound is dull - bass is just a 'thump' without finer details in sound. It might be OK for movies tough and I know many prefer that kind of bass. In mid the tightness of the sound was at the same level. But in the 'high' position Direct servo was a clear winner.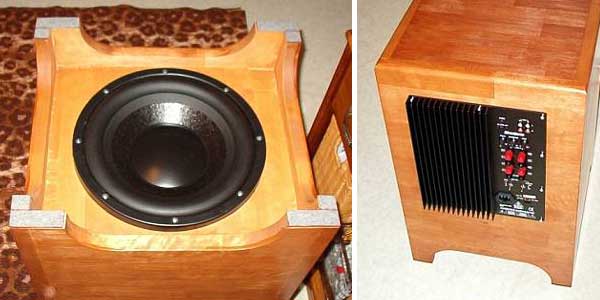 I can hear the details and the vibration of the bass drum in a way I have not heard before. The bass is tight, accurate and in control all the time. I've calibrated the levels with an SPL meter and even if the bass is tight it is still strong.
Some subs might have the tight sound but the bass output is limited and the sub might not go so low (gives a fake feeling of tightness). With Direct servo this is not a problem. ... I'd like to thank you for the service and support I got from you. "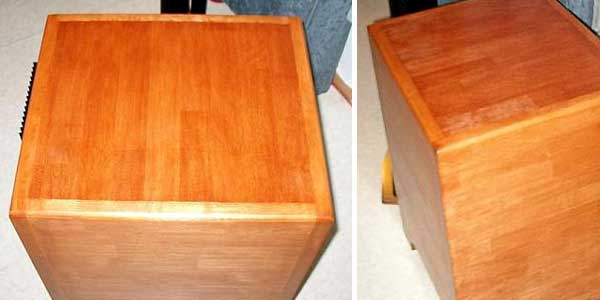 top
| | |
| --- | --- |
| Customer: | Eric O (CA) |
| Product: | DS12-sealed Direct servo kit |
"After a good bit of playing around, I have the sub pretty nicely sonically integrated with my mains. I found that going for the deepest bass extension really limited max SPL and that the 28Hz setting with high damping seems to work pretty well. The sub is articulate and nicely controlled over its entire range - no boomy or "loose" sounds emanate from it. I like the fact that I can now clearly hear the bass line on a jazz CD - or the lower pitches of the pipe organ."

top